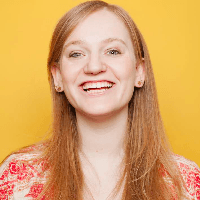 Filed by Orli Matlow

|

Nov 29, 2016 @ 2:23pm
Nin Com Soup, a shop at the Old Street Tube Station in London, was selling a disgusting smoothie of almond milk, vegan protein, peanut butter, banana, lacuma, maca, and honey. Oh, and it wasn't disgusting just because of the ingredients, but also because it was branded as a "Nutzy" smoothie with a swastika on the label.
Who wouldn't want to stay hydrated with the Holocaust?
The Coalition Against Antisemitism reports that the store manager insisted "that it was an inverted swastika which was a Hindu symbol of health and prosperity, which is indeed right but the swastika was not inverted, and the Hindu sign includes dots within the symbol."
Sorry dude (and sorry Hindus), but the image of the swastika hasn't been associated with Hindus to non-Hindus since 1939.
It gets worse. When the woman pointed out that "nutzy" sounds a WHOLE LOT like Nazi, "he said it was a play on 'having the nuts', meaning 'having the courage' and was a pun as the drink contains nuts."
Even with that factoid, the manager was not sympathetic:
I told him how offensive that was for certain people. He asked why I would find that so offensive, to which I responded that I lost my family to the Nazi regime and that despite the Hindu use of the symbol, this along with the name of the drink was extremely offensive. He said that London is a free city.
71 years after World War II, the Nazis are invading the Allies with swastikas on smoothies in London and on parks in New York.
What's next: the "Auschwitz on Ice!" Figure Skating Spectacular?
Oh. It's been done.