Canadian ice dancing pair Tessa Virtue and Scott Moir got a bit to hot on the ice. Their skate through the soundtrack of Moulin Rouge featured a lift which quickly had her vagina close to his face, and that's too sexy for the world stage.
The Toronto Star reported that "The Canadian Press was leery of moving photos which captured the pose," and that the pair will cool down the routine when they compete in South Korea.
With the heat turned all the way up, Virtue and Moir got a perfect score at the Canadian Skating Nationals in Vancouver.
Moir insists that the tweak to the routine is for aesthetic, not sexiness, reasons.
"What it came down to actually was that when we slowed it down and looked on the video, it wasn't aesthetically that beautiful of a position, so we wanted to change it, make it a little bit better," Moir told the Star on Wednesday at the Gangneung Ice Arena in PyeongChang.
In the new version,"Virtue straddles Moir's shoulders for a brief moment before dipping one knee down and then dismounting."
"We wanted to make a bit of a different statement. If that was bringing an edge or sexuality or darkness, or a contemporary feel to it, then mission accomplished I guess," Virtue told the Toronto Star.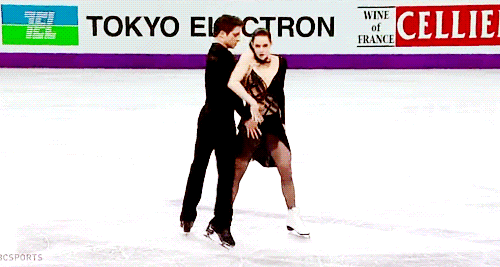 Virtue and Moir have been skating together for 20 years. The team won the gold for ice dancing at the 2010 Vancouver Olympics and silver at the 2010 Sochi games.
Keep killing it.
Sexy lift or no sexy lift, you make Team Canada proud!