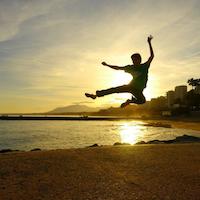 Filed by Mitchell Friedman

|

May 25, 2017 @ 9:50am
The saga began Wednesday night, when comedian Paul Scheer opened an order of diaper pail refills and discovered nothing but a pair of used pants inside.
What. The. Holy. God.
So did some of his fans... at first.
But Scheer was insistent that he wasn't making this up:
And his fans quickly turned their attention to one thing: PUT. ON. THE. PANTS.
Paul Scheer was initially resistant. The big baby thought he'd be sucked into some sort of horror movie scenario.
So far, the commenters had come up with only one reasonable theory to assuage Scheer's fears that putting on the pants would somehow suck away his soul.
And the movement to #PutOnThePants continued, led mostly by The Bachelor producer Elan Gale.
A resistance quickly formed to stop the impending disaster.
But guess what—peer pressure is an incredible thing when it comes to LOLs.
And then... he did it.
Pics, Paul! The people want pics!
The response to Paul Scheer's final pants tweet was rabid, even though they got what they wanted—they weren't done with the story.
This is a developing story. Check back for more updates on Paul Scheer's used pants.
#PutOnThePants.