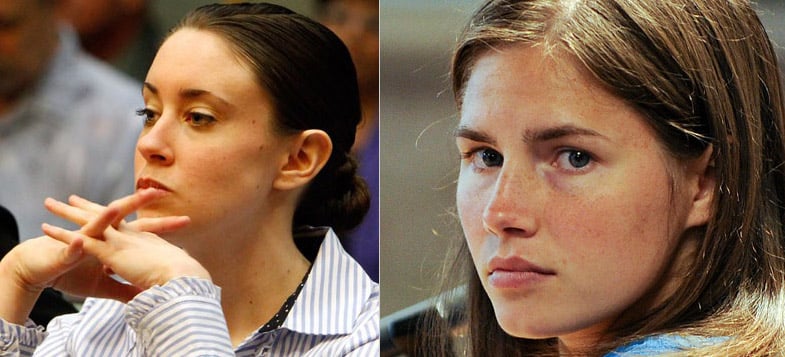 25. Prosecutors of semi-attractive murderers: As if bars needed more 6's hanging around desperately at closing time, this year prosecutors in the Casey Anthony and Amanda Knox trials failed to convict the two obviously guilty, and we guess "kind of OK looking" women. Worse still for the prosecutors, they'll probably never even get a chance to regret banging one of them come morning.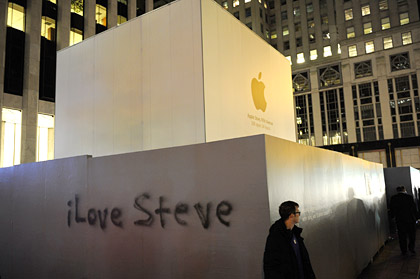 24. Apple customers: Founder and on-again/off-again Apple CEO Steve Jobs died on October 5, prompting millions of customers with a close personal connection to the head of the mega corporation to send very original "i-[Insert Adjective Meaning Sadness]" tweets and Facebook updates from the very devices Jobs was famous for inventing and price gauging.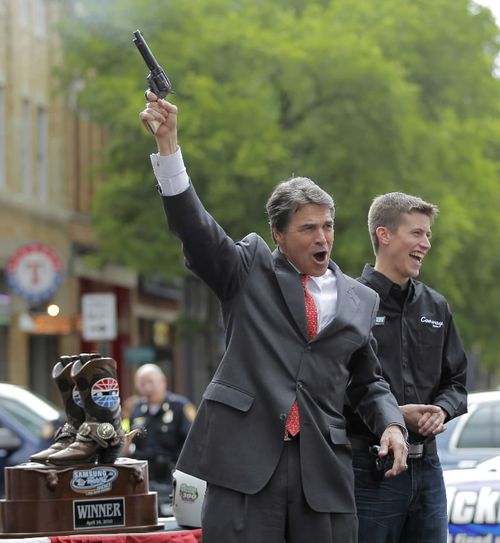 23. Rick Perry: Texas governor Rick Perry bravely overcame an obvious mental disability to briefly become the GOP front-runner this year.  Unfortunately, a series of gaffes too innumerable to count — even for people who aren't Rick Perry — made short order of his plans to replace the president he affectionately named a hunting lodge after.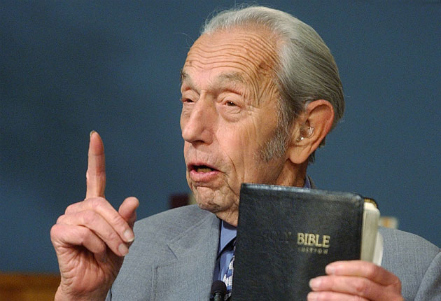 22. Harold Camping: Seeing as his idea of a good year would have meant the end of the world, we take immense joy in knowing that Family Radio founder Harold Camping failed in predicting the May 21 rapture, the October 21 rapture and exactly how many jelly beans were in that jar.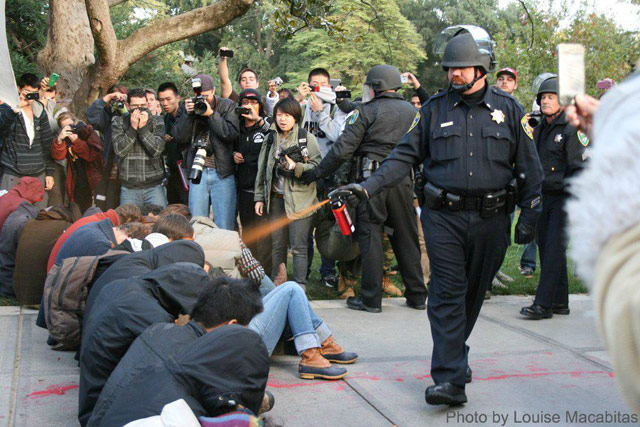 21. UC Davis Pepper Spray Cop: On November 17, a group of slack-jawed students at UC Davis surrounded campus police Lt. John Pike in a bar and took turns raping him on top of a pinball machine. Luckily for Pike, he remembered the pepper spray technique he had learned in his women's self-defense class and was able to use it to ward off his many attackers. Sadly though, by the time he summoned the courage to fight back the damage had already been done.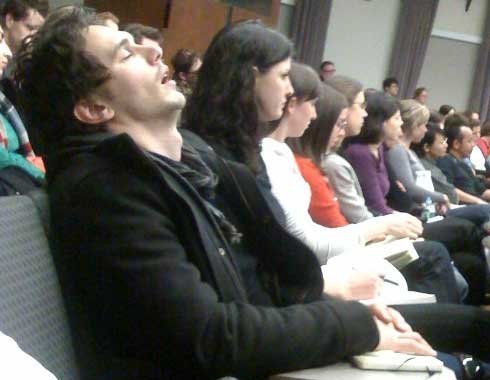 20. Professor Who Got Fired Because of James Franco: NYU professor Jose Santana claimed he was fired this year after giving a D to actor James Franco — who many will remember as "Bar Guy #1" in 2006's The Wicker Man and "that dude who does everything, up to and including dissolving someone's tenure."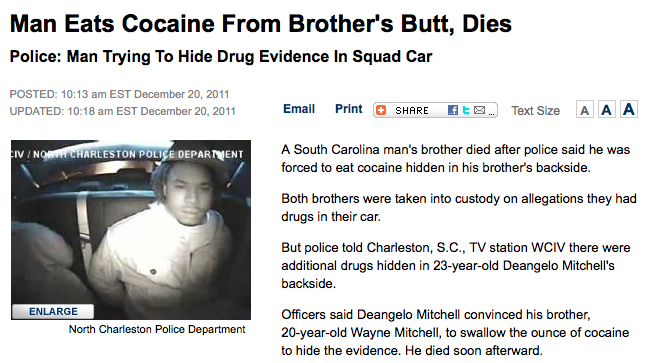 19. Guy Who Ate Cocaine Out of His Brother's Ass and Died: It may seem cool when celebrities do it in movies or on commercials, but what "Big Ass-Cocaine" isn't telling you is that eating cocaine out of an ass can KILL— even if it's your brother's ass.  So kids, please keep this in mind next time you feel peer pressured into skipping school to munch down on some butt blow.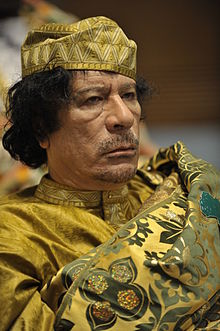 18. Muammar Gaddafi: After 40 years of ruling Libya dressed like Eddie Murphy in Coming To America, Muammar Qaddafi's dictatorship ended in October when Libyan protestors peacefully dragged the dictator out into the street and killed him. Adding insult to injury, we can almost be certain they spelled his name wrong on his tombstone.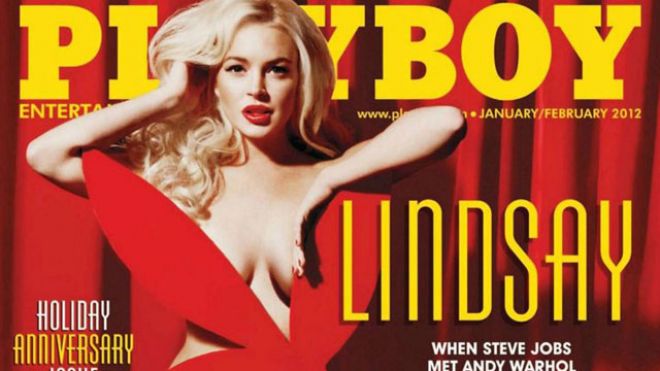 17. Lindsay Lohan: When taking off your clothes for money is the best thing that's happened to you all year, chances are you're not having a great one. And 2011 was especially hard for Lindsay, who started the year by "borrowing" a beautiful necklace from a jewelry store — only to find out later that "borrowing" something without asking is technically "larceny" punishable by jail time. Luckily California was kind enough to give Lindsay a piece of plastic ankle jewelry to replace the necklace now known as "Exhibit A."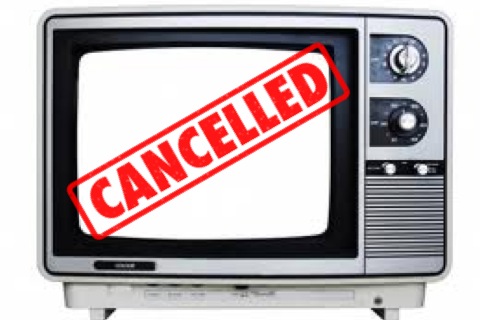 16. Fans of "Really Good" TV Shows No One Watches: With the outright cancelation of Hung and Bored to Death as well as talk of canceling NBC's Community, fans of allegedly "amazing" TV shows no one seems to watch took it on the nose this year. With any luck though, next year scientists will figure out a way to make blogging and Twittering about how much you like a show count for ratings. Then these fans will have it made.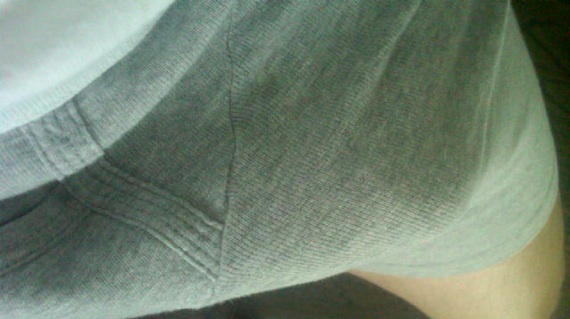 15. Anthony Weiner: We don't really remember why this guy was having a bad year but his last name is really funny, isn't it?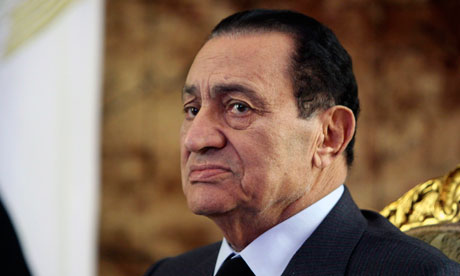 14. Hosni Mubarak: Much like denial isn't a river in Egypt, Hosni Mubarak isn't a leader of Egypt, anymore, thanks to the efforts of Egyptian protestors who used Twitter for something other than stroking their own egos, misspelling simple words and sending penis pictures.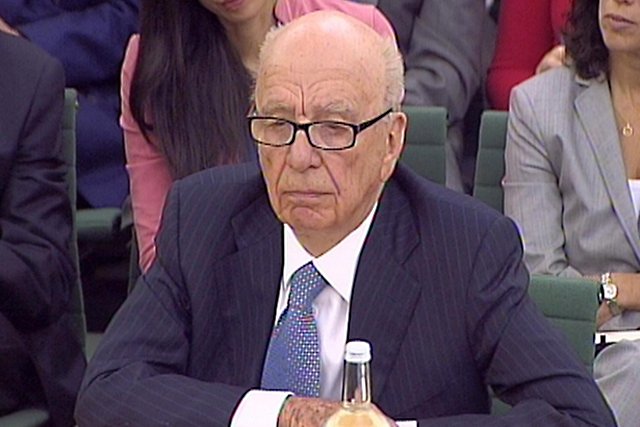 13. Rupert Murdoch: They tell you not to text and drive but what they don't tell you is not to text and know Rupert Murdoch because he's probably hacking your texts, using them to conjure up news stories, getting caught, then having absolutely nothing happen to him because he's a billionaire and billionaires can do anything they want.

12. Arnold Schwarzenegger: Former action movie icon-turned-governor Arnold Schwarzenegger has destroyed a lot of things in his career — trophy-hunting aliens, robots from the future, the state of California — but when news finally surfaced in May that he'd carried on a long affair with the family maid, it was his marriage that exploded, leaving nothing but heartbreak and a half-Guatemalan half-Austrian love child in its wake.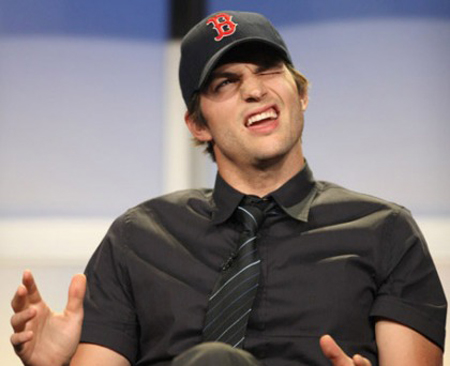 11. Ashton Kutcher: Kutcher "won" the lead on Two and Half Men after Charlie Sheen's life-ruining meltdown #483, then proceeded to have a meltdown of his own, including an obligatory infidelity revelation, a dissolved marriage, a humiliating Twitter mishap in which he mistakenly came to the defense of Joe Paterno in the midst of the Penn State scandal, and the dubious honor of making the most insipid, lazily written show on TV somehow worse. 

10. Netflix CEO Reed Hastings: Something tells us that when Reed Hastings scrapes his knee, his solution is to bash it with a sledgehammer. In a year full of business missteps and public relations blunders followed by even worse missteps and blunders in an attempt to fix the previous ones, the only thing this embattled CEO managed to do right in 2011 was secure a fourth season of Arrested Development. Then again, if those new episodes end up tarnishing the legacy of the greatest sitcom in history, his 2012 will be even worse.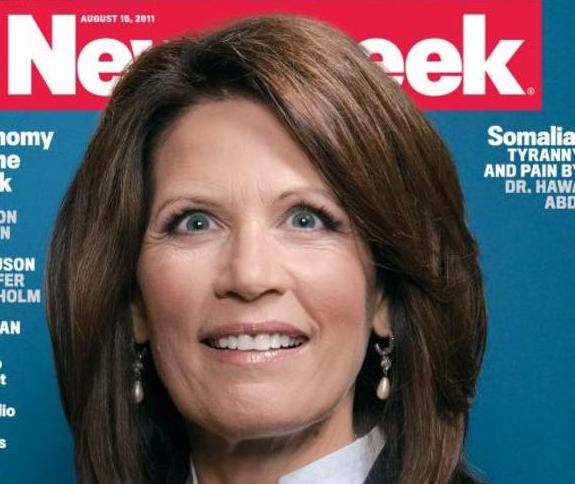 9. Michele Bachmann: Thankfully all but out of the race now that Republicans have either realized she's insane or remembered they hate women, Bachmann still scared us for a minute there. She's like the Pepsi to Sarah Palin's Coke, if Pepsi had an aggressive foreign policy plan and an extremely gay husband.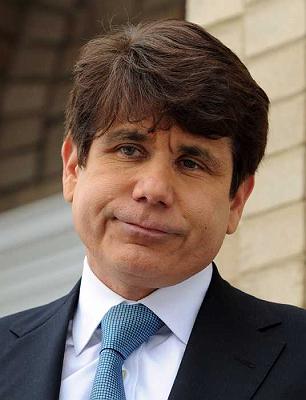 8. Rod Blagojevich: The epically disgraced former Illinois governor was sentenced to 14 years in prison for corruption, proving that Apprentice stars with ridiculous hair, inflated egos and a terrible business sense sometimes do get what they deserve.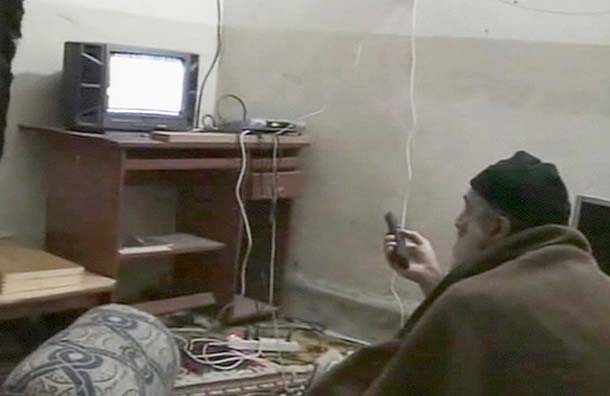 7. Osama Bin Laden: Time finally ran out for the world's most notorious fugitive when he was found hiding in a place you'd least suspect, unless you're one of the many people who suspected it for years. After getting some American diplomacy right between the eyes, bin Laden was deposited at the bottom of the sea, where he will remain until he inevitably returns to attack Tokyo as Mecha Bin Laden.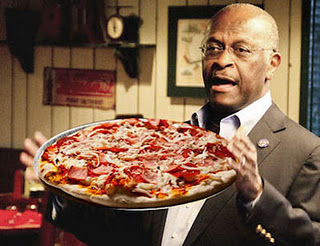 6. Herman Cain: On second thought, maybe the real loser here is us, because the Republican presidential race has gotten a lot more boring since the departure of this whimsical, boob-grabbing pizza-wizard and his silly nonsensical tax plan.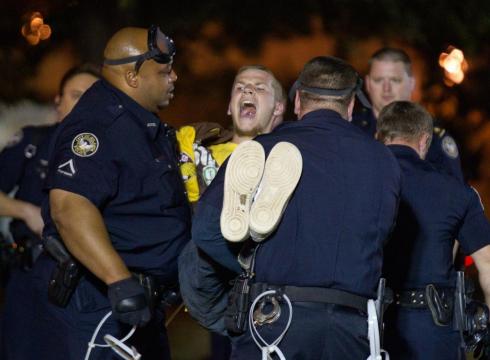 5. OWS protesters: While we've supported the Occupy movement since its inception, there's no question that these guys had a pretty rough 2011. From trashed camps, to mass arrests, to pepper-spray scorched retinas, these brave activists have paid the price to make their voices heard. Unfortunately, their biggest obstacle might be our embarrassingly short attention spans, because we've already kind of forgotten about them.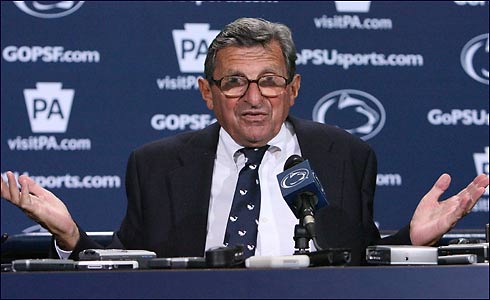 4. Joe Paterno: We decided the best thing was to send the details of Joe Paterno's crappy year up the chain of command and then go about our business as usual.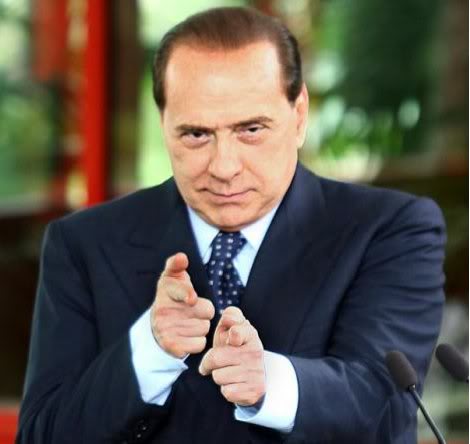 3. Silvio Berlusconi: With his questionable business dealings, shady connections, and appetite for younger women, Italian Prime Minister Silvio Berlusconi is basically a Sopranos character who got elected to office. He finally stepped down in November due to the mounting European debt crisis, intense public backlash, and a desire to spend more time with his mistresses.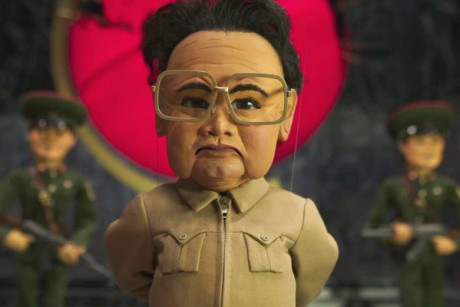 2. Kim Jong Il: What can we say about Kim Jong Il that the people of North Korea haven't already been forced to say at gunpoint? Let's just take one last moment to celebrate the fall of a deranged, tyrannical dictator by ignoring that his replacement is an equally deranged, tyrannical dictator.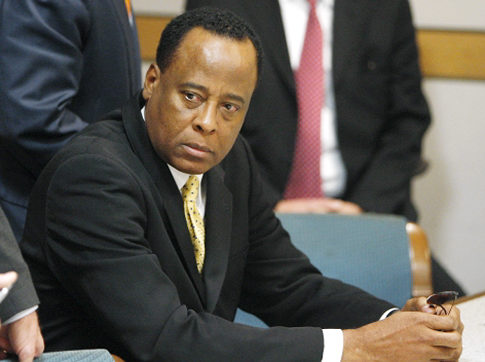 1. Conrad Murray: In November, Murray was finally brought to justice for robbing the world of its most beloved suspected child molester. We'd rather have Zach Braff as a doctor than this guy. Not even Zach Braff's character from Scrubs — just irritating B-list actor with zero medical experience Zach Braff.