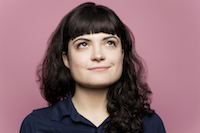 Filed by Jaime Lutz

|

Apr 20, 2016 @ 6:45pm
It's Queen Elizabeth's 90th birthday on Thursday (aren't you bummed she missed out on having a 4/20 birthday?), and to celebrate, Mashable made this puzzle that asks you to find the monarch within a crowd of corgis, her favorite dog. It's reminiscent of that panda puzzle that went viral last year, only newsier!
On her birthday, the queen will become the only British monarch to reach 90. And she's still sharp enough that she can probably solve this puzzle.