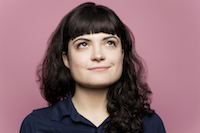 Filed by Jaime Lutz

|

May 10, 2016 @ 3:05pm
Reddit user noonesaysftumch shared a receipt he apparently received that has an ominous message at the bottom of it: "Thank you for visiting our location. Meet Kalib out back for fight club." Was this Redditor buying pink soap or something?
According to noonesaysftumch, "he was a no show." But maybe that's because, as some Redditors pointed out, (SPOILER ALERT) he and Kalib were the same person the whole time.