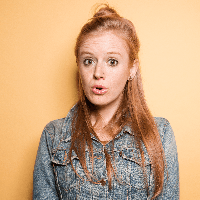 Filed by may wilkerson

|

May 16, 2017 @ 6:00pm
Things are a little chaotic in England right now as the country is in the midst of election season and we all know what that's like. But this doesn't explain this BBC news reporter reacting to a woman interrupting a live news broadcast by grabbing her by the boob.
BBC News presenter Ben Brown was interviewing BBC assistant political editor Norman Smith live on air when a blonde woman walked into the frame and gave a thumbs up to the camera. So Brown quickly tried to push her out of the frame by placing his hand directly on her right breast.
What in bloody hell, mate??? (Translation: WTF, bro???)
A clip of the bizarre moment is now going viral on Twitter:
The woman, who looks annoyed but not furious (hard to know what she's really thinking though), then slapped Brown on the arm (the more-appropriate place to touch a stranger) before walking away.
Moments after the boob grab aired, Brown tweeted this apology:
Unfortunate interruption of broadcast in Bradford - just tried to minimise disruption but v tricky live on air - completely unintentional

— Ben Brown (@BenBrownBBC) May 16, 2017
"Intentional" or not, it's pretty strange that he didn't he aim for her arm or shoulder, as most people would have done. Maybe he's watched that viral "BBC dad" video too many times and was trying to gently push her away the same way Professor Kelly famously did when his 4-year-old daughter crashed his live interview?
But this was an adult stranger, not his 4-year-old daughter. Everyone knows you don't grab full grown women by the chest. Unless they have clearly consented to it.
Twitter is not impressed with this clearly non-consensual boob grab.
@tmccrj2 @BenBrownBBC Sorry, were they on private property? Is it against the law to stand in shot of the BBC? If not, he shouldn't have laid hands on anyone

— Phil Bird (@PhilBird19) May 16, 2017
@tmccrj2 @BenBrownBBC They're clearly on a pavement in a public area, no right to move her away. She wasn't being aggressive, just giving a thumbs up to camera.

— Phil Bird (@PhilBird19) May 16, 2017
Some are calling the move "assault."
And, of course, others are making boob jokes.
In conclusion: don't grab women by the boobs (or any other body part) without their consent. Even if you are on TV and have a British accent.