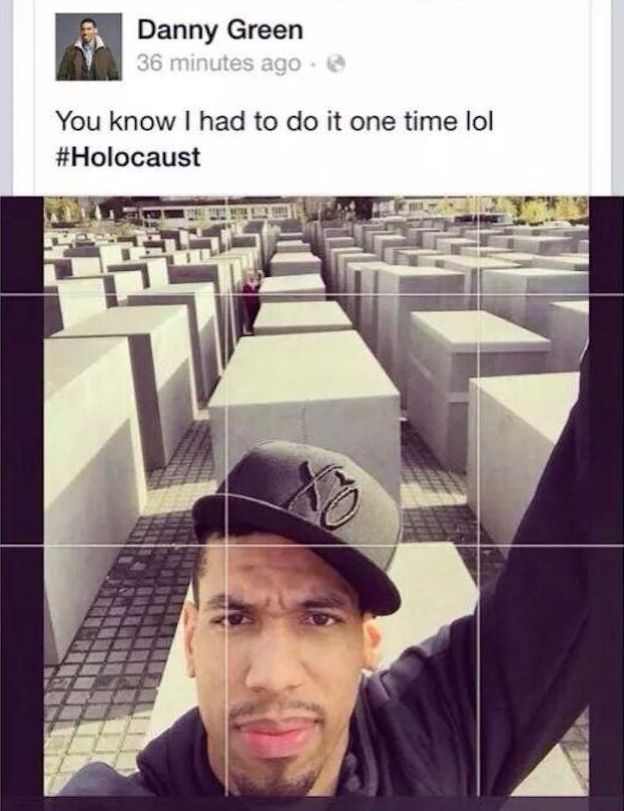 By "do it one time," I assume you don't mean "grieve for millions of innocents."
And by "lol," you mean...?
San Antonio point guard Danny Green has a very simple motto for his Twitter and Instagram accounts: "Respect is everything... I give what I get." Well, Mr. Green certainly has it coming today. As you can see from the screenshot above, the 27-year-old Green took a selfie at the Memorial to the Murdered Jews In Europe in Berlin, Germany while he was in town for an exhibition game against a Berlin team. He also captioned it "You know I had to do it one time lol #holocaust." 
Now, this is actually not the worst Holocaust selfie I've ever seen—that dishonor is reserved for American teen tourist Princess Breanna. Nevertheless, you could make a good argument that a selfie is fundamentally inappropriate and egotistical in this location, and you could make a rock-solid argument that "lol" and "#holocaust" are mutually exclusive sentiments. 
Green, for his part, realized he was being an ass and changed the caption on his Facebook picture:
He also wrote a series of apologetic tweets.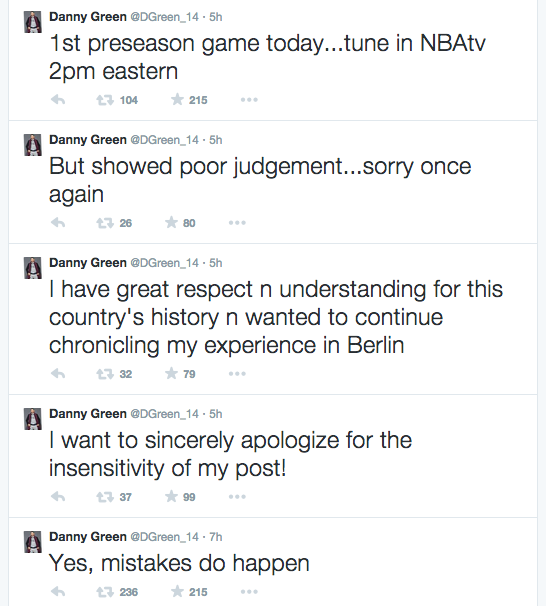 All told, I'd rate this social media incident as an "embarrassment" but not a "scandal." He screwed up, but he's a 27-year-old athlete who a.) visited the Memorial in his free time and b.) apologized and retracted his words. So basically, it's worth making fun of him today about it, but I will go back to being unaware Green exists in approximately 5, 4, 3, 2, 1....
(by Johnny McNulty)