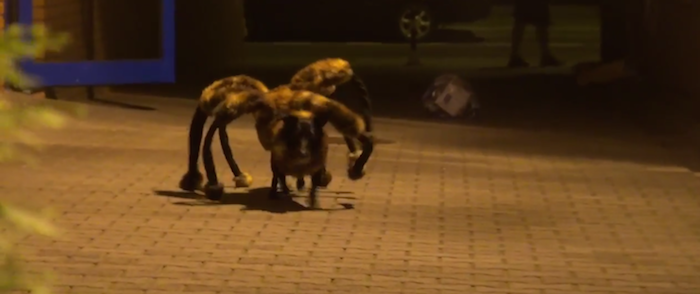 Spiderpup, spiderpup,
Does whatever a spider...might,
Runs around, licks your face,
Scaring folks all over the place.
Look out! Here comes spider pup!*
*cough cough* Ahem. Normally, I'm not a big fan of scare-prank videos, but this mutt in a spider costume is an amazing time-killer and pants-soiler. Now, before you start shouting that this is all fake, I'd like to remind you that the human brain contains within it instincts inherited from previous species, many of which were tiny furry shrew-like mammals that could, indeed, have been eaten by a big hairy spider. So basically, you're already hardwired to be an embarrassing prank victim on the Internet. 
SA Wardega is a popular YouTube channel for pranks that, typically, scare people or make them slightly uncomfortable in an amusing or pop-culture related way (like having the girl from 'The Ring' ride the subway). I don't know why they chose this prank, other than "someone found this costume and it just had to be done." 
*Hopefully, you're at least dimly aware of the old Spiderman cartoon show and recognized the theme song, so you don't think I've just lost my mind over Joan Rivers. 
(by Johnny McNulty)