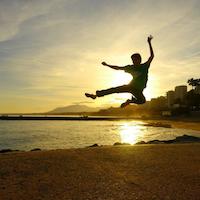 Filed by Mitchell Friedman

|

May 09, 2017 @ 9:10am
Fort Lauderdale's airport became a nightmare zone on Monday after Spirit Airlines canceled nine flights and furious passengers fought with security and airline employees, according to CNN and CBS.
BREAKING OVERNIGHT: Chaos broke out among stranded travelers at Fort Lauderdale airport after Spirit Airlines canceled at least 9 flights. pic.twitter.com/y8RA8sZAA5

— ABC World News Now (@abcWNN) May 9, 2017
Cell phone videos captured the chaos of the brawl and NBC News reports Spirit Airlines' statement that they are "shocked and saddened" to see the footage. Three arrests were made as "screams wailed through the under-construction terminal," the site added.
According to CNN, Spirit has canceled nearly 300 flights in the last week—blaming pilots and actually attempting to take them to federal court over the slow down.
"This is a result of unlawful labor activity by some Spirit pilots designed to disrupt Spirit operations for our customers, by canceling multiple flights across our network," said Spirit spokesman Paul Berry.
Meanwhile, "chairman of the Spirit unit" of the pilots' union blamed Spirit and refused to accept "substandard pay and retirement based on the unenforceable hypothesis that the Company may grow more quickly."
Twitter certainly didn't take the side of the airline, as Spirit Airlines began trending. Spurned passengers savaged the company, which already had a reputation for less-than-stellar customer service.
BREAKING: Fights break out at Spirit Airlines terminal. Airline responds by charging each fighter an extra $75 Fighting Fee.

— P Scott Patterson (@OriginalPSP) May 9, 2017
Do they call themselves Spirit Airlines because they're extremely good at crushing yours?🤔

— Regal Luke (@Wolf_am_I87) May 9, 2017
The only winner in this situation might be United Airlines.
UNITED: "Well, it doesn't get worse than this."

SPIRIT AIRLINES: "Hold my beer..."

— TrivWorks (@TrivWorks) May 9, 2017
How long until we all just start walking?