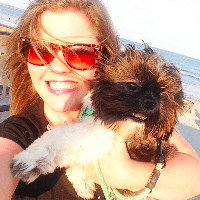 Filed by Missy Baker

|

Mar 22, 2016 @ 5:22pm
Spring break is that magical time in a college kid's life when he or she can finally take a break from schoolwork and partying and concentrate just on partying. If you think the combination of binge drinking, horny coeds, and large bodies of water would be a recipe for disaster, than you are absolutely right. Here are 15 people who's Spring Break left them broken.
1. This girl who dropped out of pole dancing class:
2. This guy who trusted someone to rub sunscreen on his back: