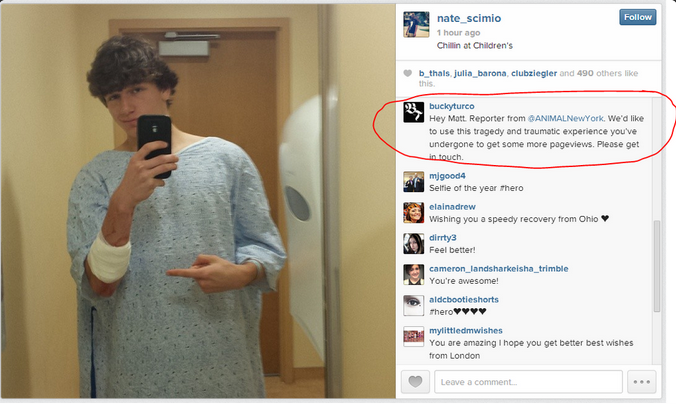 Nate's way ahead of you, troll. (via)
Nate Scimio, a student at Franklin Regional High School, is being called a hero today after he pulled a fire alarm that led many teachers and students to evacuate the scene of a mass stabbing attack. In case you missed it, this morning, an unnamed 16-year-old suspect wielding two knives injured 20 people at Franklin—located in Murrysville, PA—before being tackled by an assistant principal. Luckily, there were no fatalities.
Nate apparently sustained an injury to his arm and was taken to Children's Hospital of Pittsburgh, where he Instagrammed this selfie of his wound with the caption "Chillin at Children's." (We're assuming it was either that or "Chicks dig scars.") So apparently, he's taking the whole thing in stride. Or perhaps, like many heroes, he's trying to pretend the whole thing was no big deal.