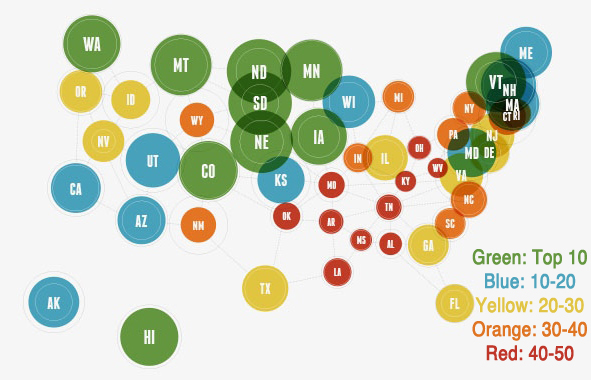 The 10 worst states are the only group that all touch each other.
(via Gallup-Healthways)
Gathered from 178,000 interviews, the polling company Gallup and health-improvement company Healthways have released their annual report on the most (and least) soul-crushing places in America. Some of the findings are obvious; it's not surprising that West Virginia, which lost drinking water due to a huge chemical spill and is regularly coated in coal dust from the low-paying industry that dominates the state, is the least-happy camper in the Union. On the other hand, because this is based on things like how physically active people are, health, access to parks, how close communities are and how affordable everything is, North Dakota has the highest well-being of any state in America. Obviously, "number of days a year your nose may freeze off" is not a category. In fact, except for Hawaii, all the really happy states have very intense winters.