At this point, it's hard to say which twitter feeds are parodies since most of the more famous Twitter accounts have already become parodies of themselves (Donald Trump has to realize he's a punchline, right?). But these admittedly fake twitter accounts are spewing some very hilarious nonsense -- some parody, others just pointlessness. They're a welcome antidote to the self-aggrandizement of most feeds. We'll take the tweets of a feral pigeon over the tweets of Chris Brown any day. (above: KimKierkgaardashian)
@starvedafrican: Tweets that will make you throw away your computer in shame.

Fab Jesus: Jesus Christ, Fashion Week Star

Justin Buber: Rounding out the execrable celebrity plus revered philosopher mash-ups: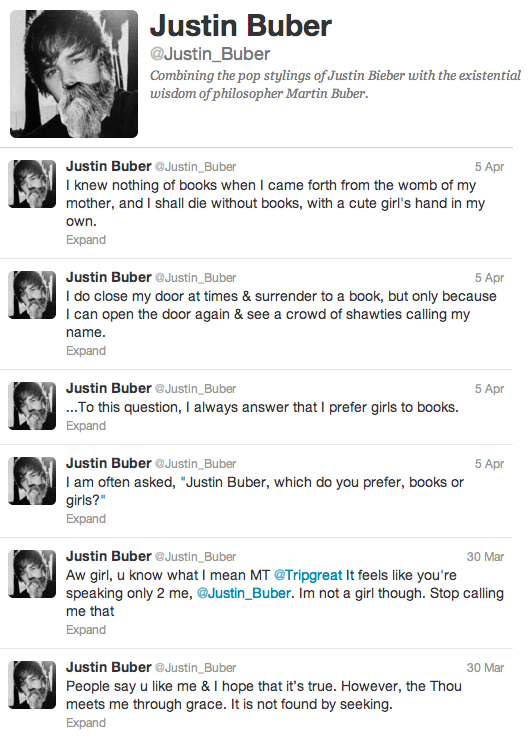 Updated 6/13/12:
@kevinneedsaride: Tweets of a man who could really use a ride to the airport.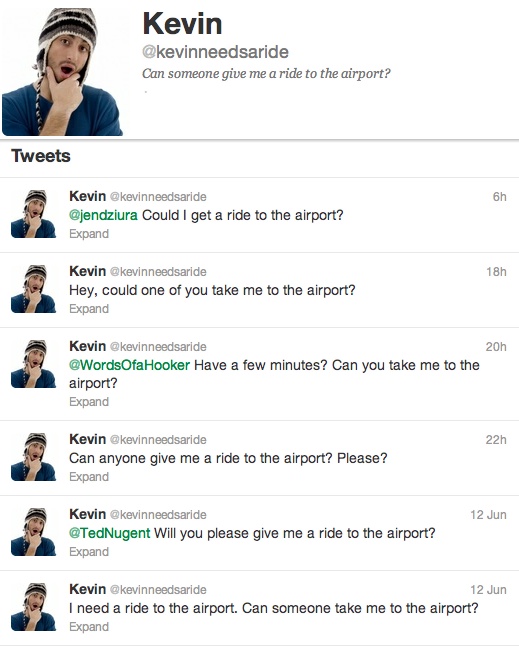 @ZooeySiri: The many annoying Siri queries of Zooey Deschanel.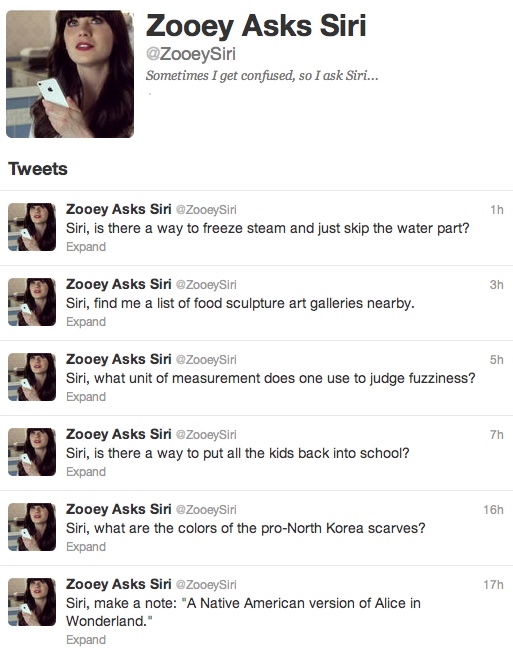 @OldManSearch: The many disturbing Google searches of one confused old man.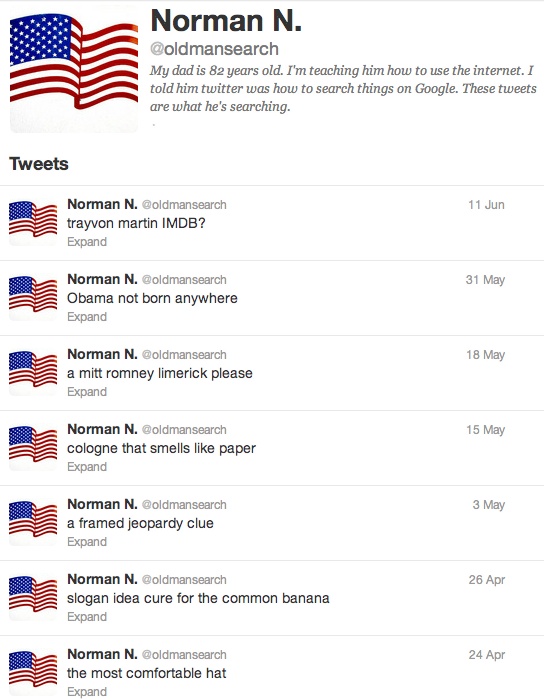 @FakeCat_Fancy: If Cat Fancy magazine was on Twitter, instead of having been turned into the entire internet.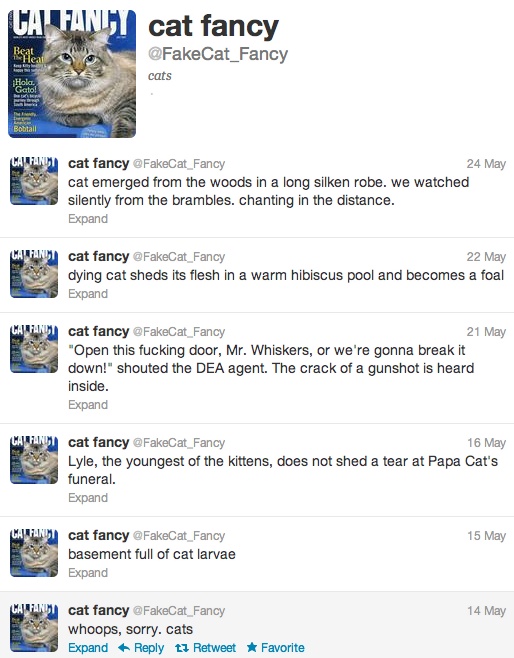 @SiriAndJohn: The many unhinged Siri queries of John Malkovich.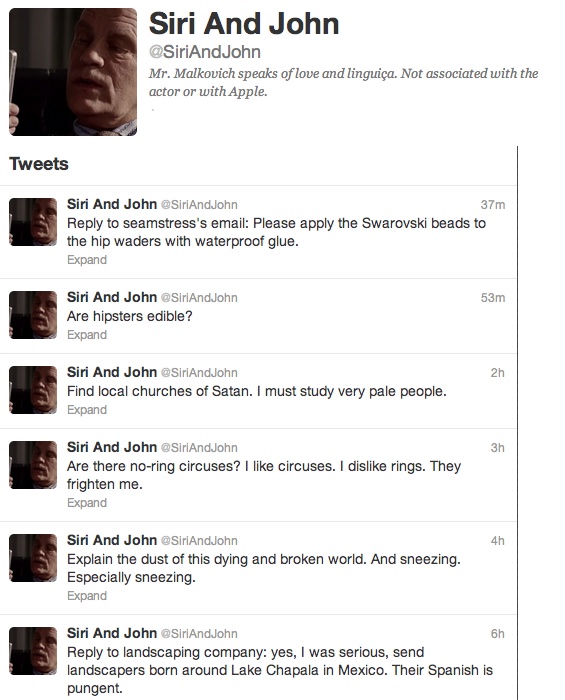 @OneTweetTony: This guy nails it!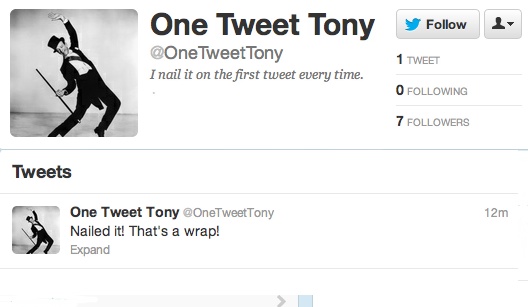 Updated 4/4/12:
@CountingCrows_: The very literal Counting Crows twitter feed.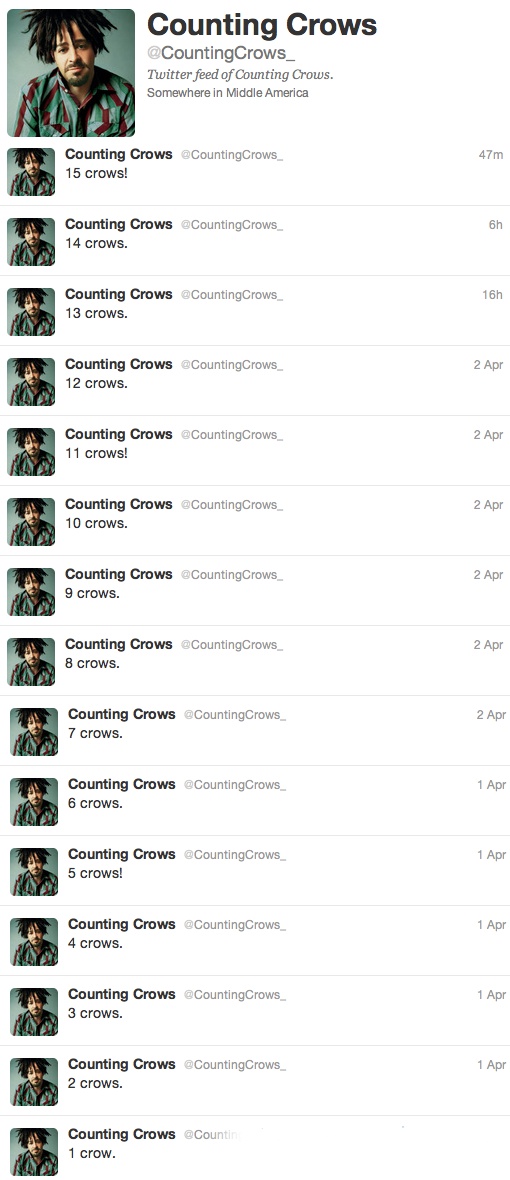 Fat Betty Francis: The thoughts and hunger pangs of Mad Men's recently fat-suit encased January Jones.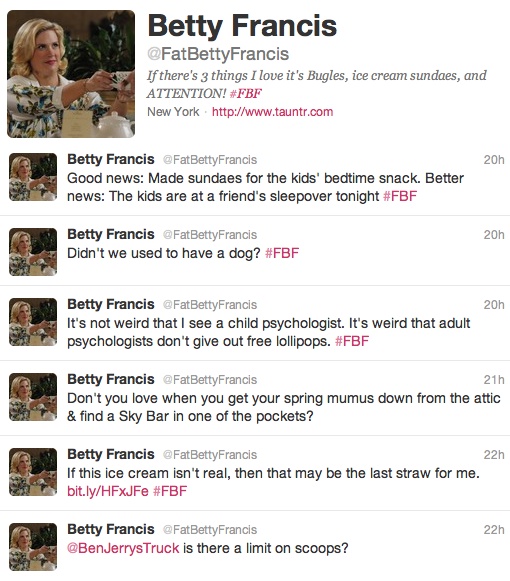 Tweet, Interrupted: In a fast-moving world, it can be hard to get all 140 characters out in one shot.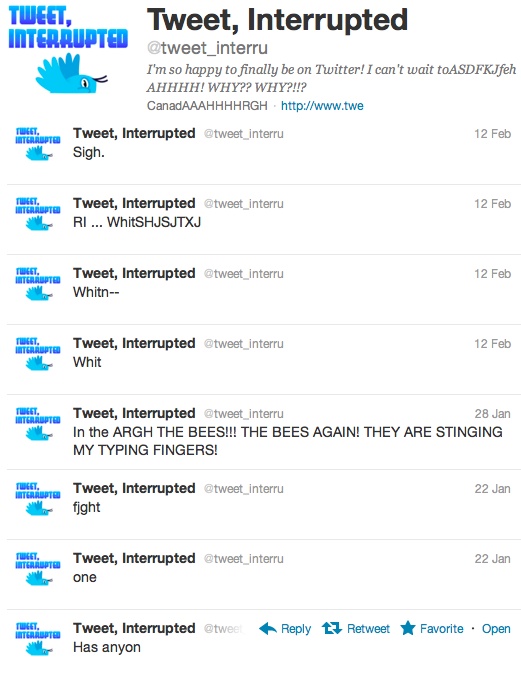 Rick Santorum's Sweater Vest: Exciting tweets from the cotton that hugs America's scariest torso.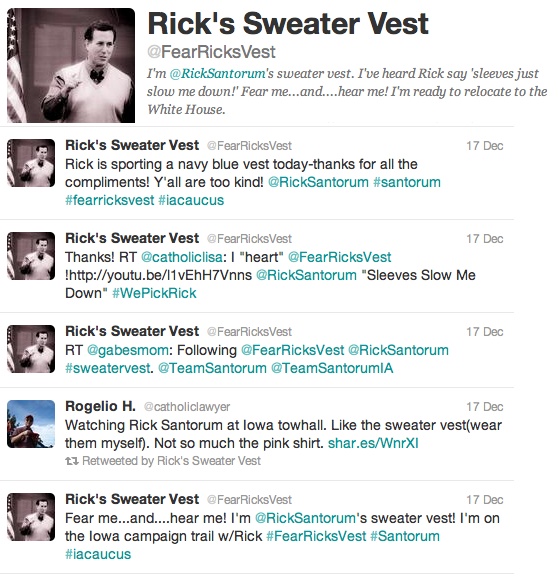 A Good Blaster: Profound words of wisdom from a space-age weapon.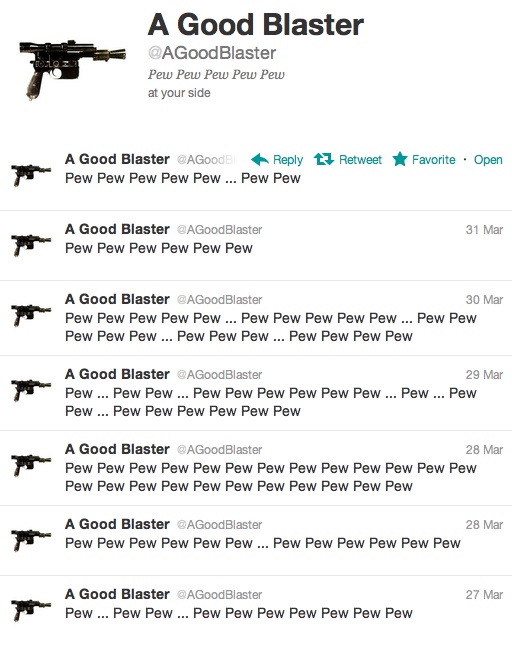 Death Guy: Last words from a guy who is perpetually on the verge of certain death (now dormant, sadly)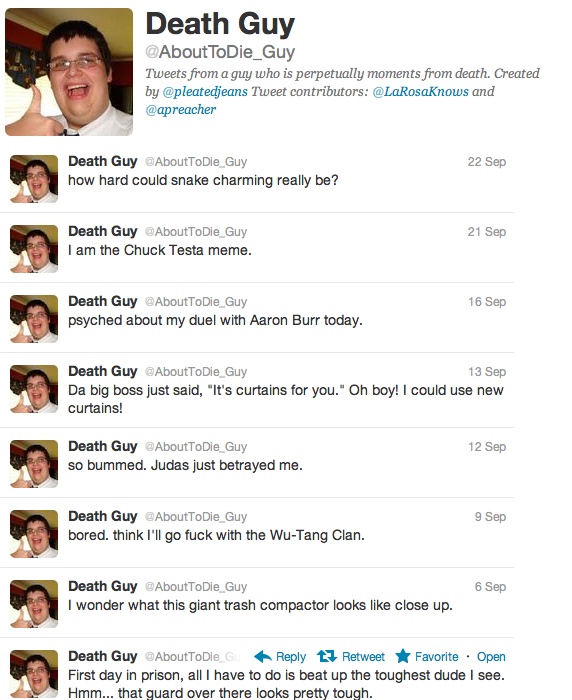 Edvard Munch's The Scream: The famous painting tweeting pretty much what you'd expect.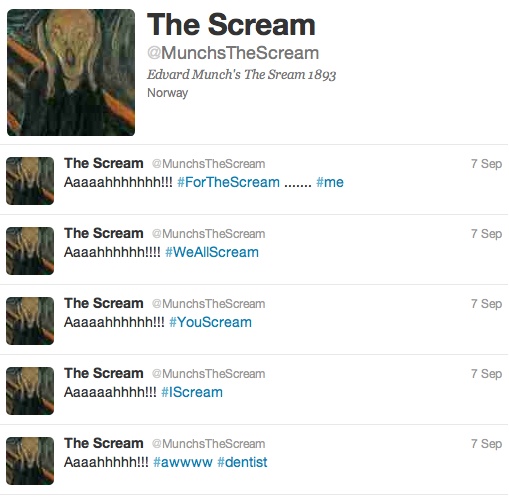 Updated 2/27/12: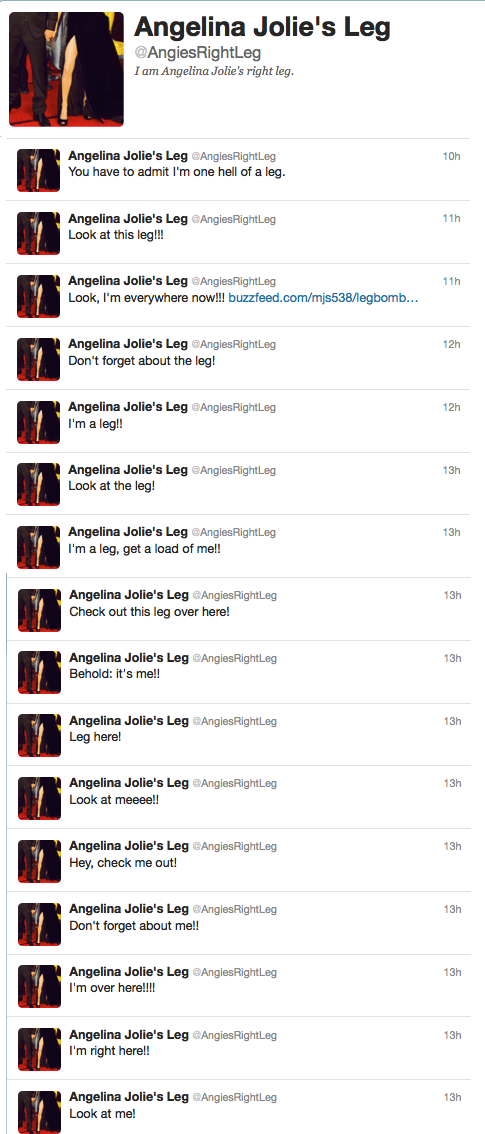 There wasn't a whole lot to get excited about during last night's Oscars, so naturally the few moments of excitement that did occur quickly took the form of internet personhood and launched their own Twitter feeds. Above is our favorite feed from last night, Angelina Jolie's Leg. Perhaps we just wanted to spend more time with said leg, since we should have been happy to be in its company, but its initial introduction was just so strangely awkward.
JLosNipple: Maybe it's just wishful thinking that it made an appearance, but who cares? We need to believe!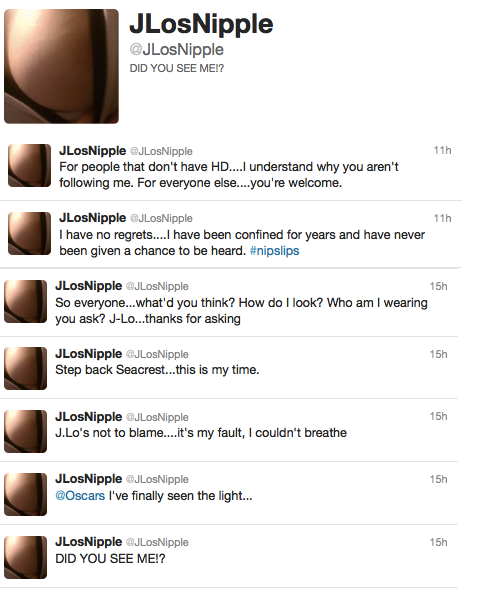 Oscars Audio Guy: No, you weren't the only one who felt like the Oscars were being recorded via police surveillance mics.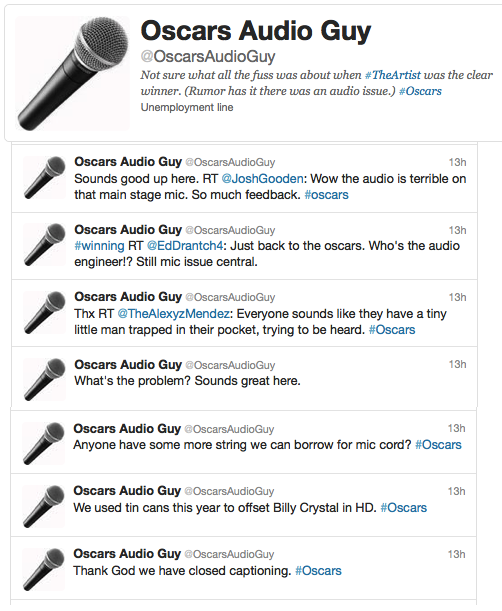 And our favorite new, non-Oscar-related pointless feed, Defensive Nickelback Fan!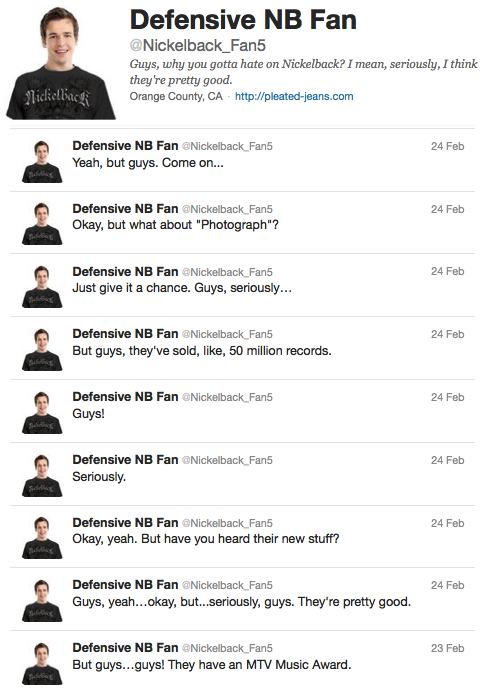 Posted 1/6/12:
Stealth Moutain: A feed devoted to correcting Twitter users' spelling of "sneak peek."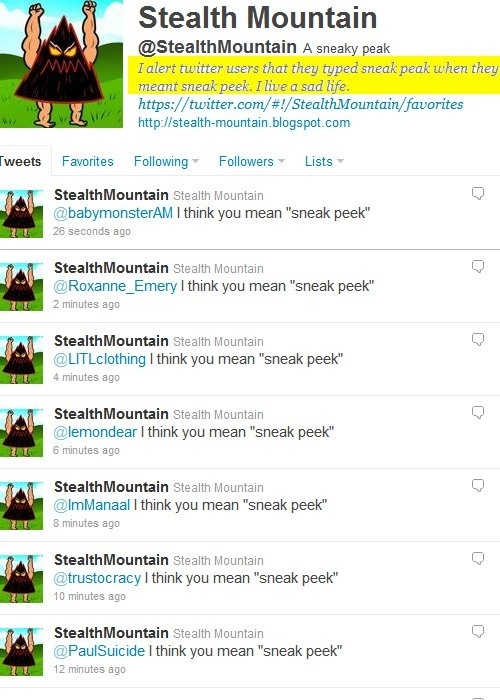 T-800: The feed of The Terminator, who does nothing but ask users named Sarah if they are Sarah Conner.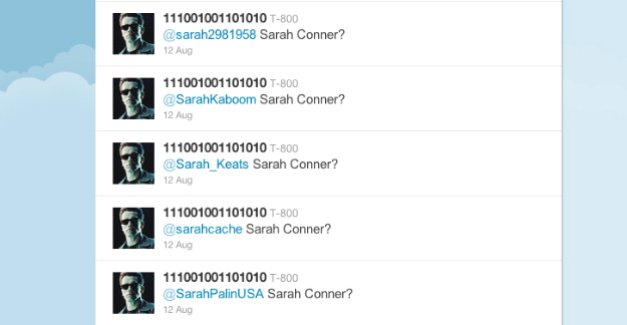 Big Ben: The tweets of the famous clock, written entirely in clock language.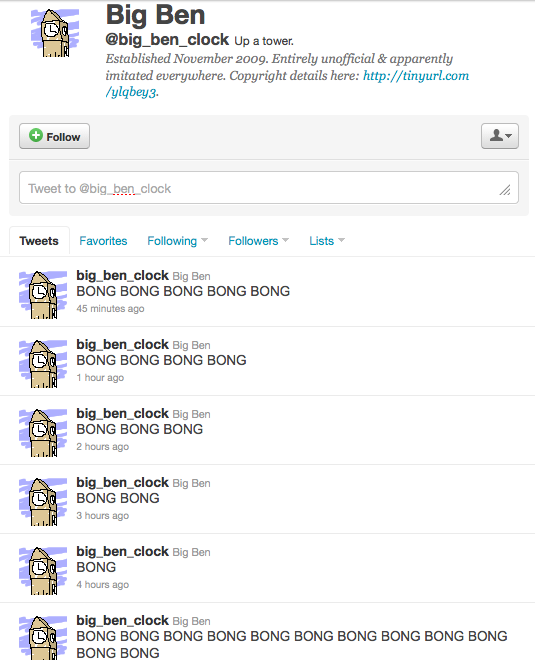 feral_pigeon: Tweets of a feral pigeon, addressing the hobbies and enthusiasms of like-minded feral pigeons.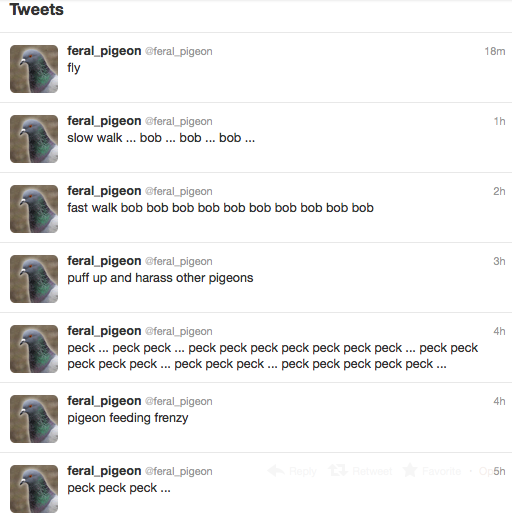 TheMime: Tweets from a mime who stays true to his craft. Read between the dots.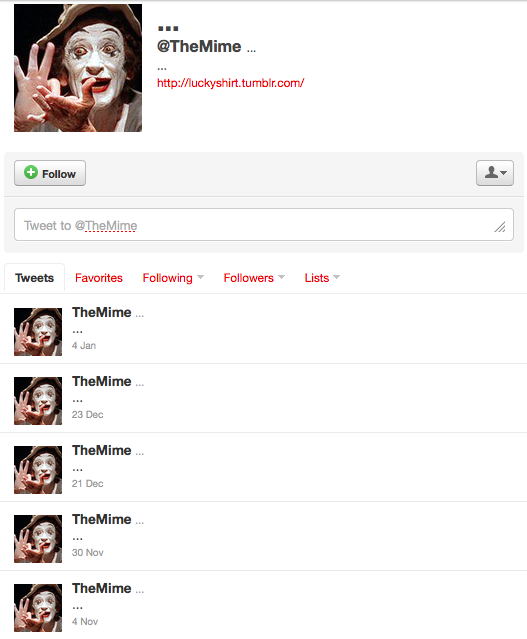 @SFSiren: The unofficial account of an emergency siren, where every other tweet sounds like it might be super-important.
@flappitybat: It's a bat that flaps in bursts of 140 characters or less.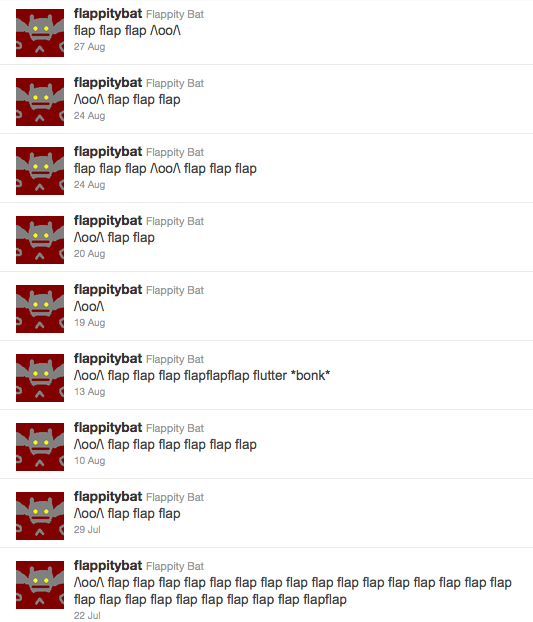 @mytoaster: The wild and carefree misadventures of the modern American toaster.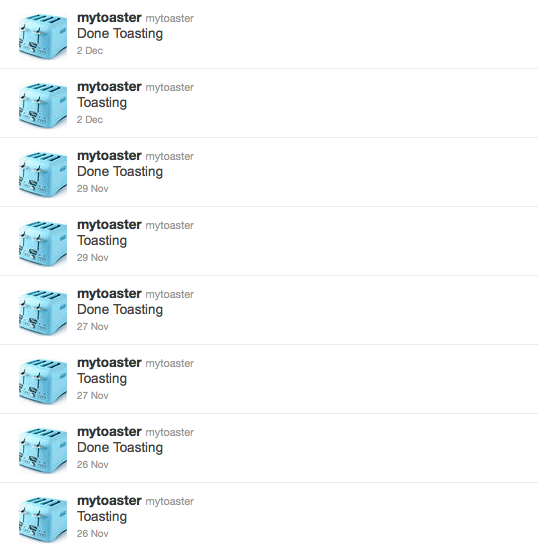 @PiMPY3WASH: It's a washing machine, but if it's "pimpy" it keeps that kind of thing off of Twitter.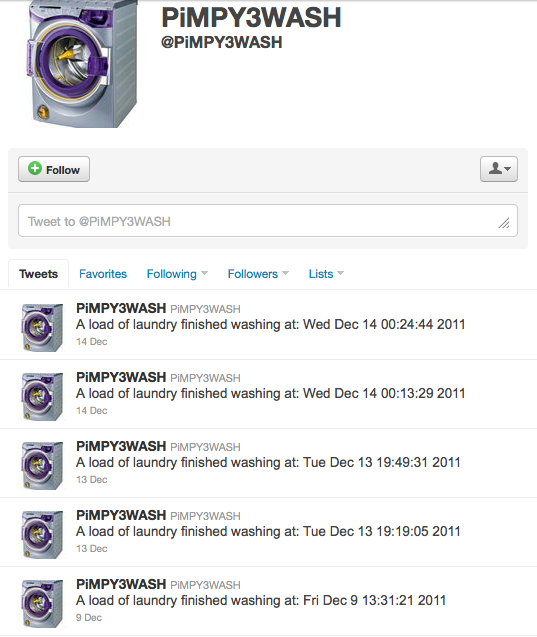 And finally, it may not be enjoyable but it is far and away the most pointless account on all of Twitter...