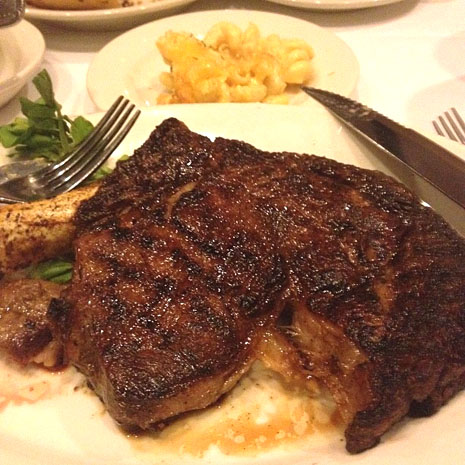 It was worth the prison time to capture such a delicious composition. (via TSG)
Identity thieves gotta eat sometime, right? And since identity thieves are humans living in 2013, they obviously can't eat a meal without posting a sepia-toned photograph of it on Instagram, right? Troy Maye reportedly stole thousands of identities online, but he and his partner in crime and in love, Tiwanna Tenise Thomason, were on their way to a doomed end when they sat down for dinner at Morton's Steak House this past January, where they talked about selling their stolen data to a man they didn't know to be an informant working with the IRS.
At some point in the meal, in between pre-dinner identity thievery chit-chat and laughter about weak password choices over dessert, Maye couldn't resist snapping an Instagram pic of his steak and mac & cheese. When the informant turned over a thumb drive of Maye's work to the IRS, claiming he had obtained it over dinner at Morton's, agents were able to confirm Maye's presence at the dinner when they found the above pic on Maye's Instagram account with the caption "Morton's," posted on the date when the dinner was set to take place. Unfortunately for Maye, there's no "I was framed!" filter. (That's an Instagram joke, you guys.)
The food porn pic could go down in history as the very first Instagram to ever appear as evidence in a criminal complaint. Sorry, but you're too late, guy who was planning to take a selfie while committing a murder!