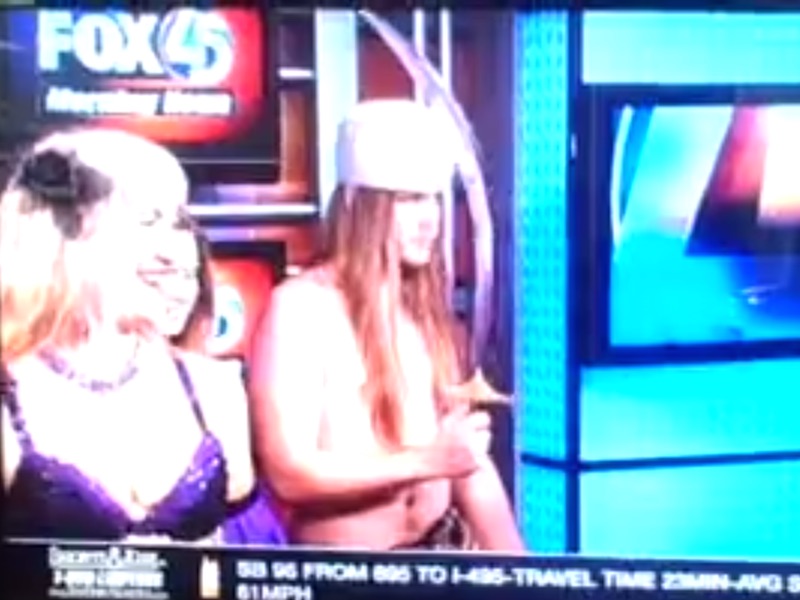 At first I thought it was a drink umbrella. It's not. His mom brought a sword.
Two years ago, a kid from just outside Baltimore, MD was asked by his mom if he'd like to join her on the local morning news show for Baltimore's FOX45 local affiliate. His mom was invited because she taught belly dancing lessons in the area. According to the kid, who goes by Aladdin on Vimeo, "she told me the segment was going to be a quick lesson for beginners, so it was fine that I had never (read: not ever) belly danced before."
I, for one, applaud this kid for not being a shy, lame teen who never wants to do anything. The morning news crew over at FOX45, however, weren't about to give him or his mom any beginner's lessons on television. "When we came out," writes Aladdin, "there was no communication, and the hosts just threw to the music. I will repeat one more time: I have never belly danced before. This video begins as I realize I'm just going to have to go with it; I'm not sure if I'll ever be able to watch the whole thing without cringing. Thanks to Luke for filming." I don't know who Luke is, but yes, Luke, thank you. Thank you so much.
Still, Aladdin writes, it's not all bad: "They interviewed Norm Macdonald after us, top notch morning overall." Top notch indeed.
I would be remiss after quoting everything Aladdin wrote not to mention that his mom is still making him do work for her: "if you liked the video and are feeling generous, my Mom is currently raising money for a Fairy Festival in Baltimore. As of this edit she's at less than 10% of her goal. It would really make my day if you threw her a few bucks. gofundme.com/BmoreFaerieFaire." I'll do it if you post an updated video of how much you've improved in belly dancing since then. Your mom's thing does look fun, though.