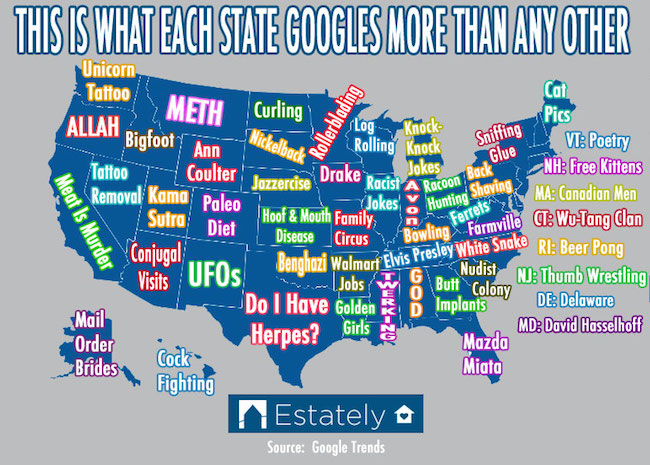 Get your head out of your ass, Delaware.
Any document that has "God" sandwiched between "twerking" and "butt implants" is bound to leave you scratching your head, and this map of what each state Googles more than any other is no exception. It was put together by Estately, an online real estate company, conceivably to help people avoid buying homes in states full of people overly-curious about meth (Montana), or even worse, Nickelback (Really, South Dakota?).
To put the map together, Estately "ran hundreds of search queries through Google Trends to determine which words, terms, and questions each state was searching for more than any other." Meaning that "poetry" isn't the number one search in Vermont, but that they're looking for it more than other states, like Texas, who apparently have more pressing concerns, like herpes.
Like all maps of this kind, some of the findings aren't all that surprising. No one would be shocked to learn that Alaskans are curious about mail-order brides. It's lonely and cold up there. Which could also explain why Idaho is looking for Bigfoot. When your nearest friend lives 30 miles away, you tend to get lonely.
These maps always leave you with more questions than answers. Is Connecticut searching for Wu-Tang Clan because they like the music, or are they frightened of them? Are Californians big fans of The Smiths, or is there a growing movement to put carnivores in prison for animal murder? Probably both.
What these maps are best at is starting discussions. Discussions that usually begin with "What the fuck is wrong with you?" So have at it, you back-shaving, jazzercising nutbags.
(by Jonathan Corbett)