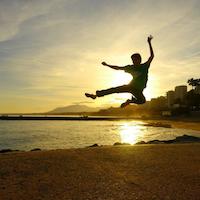 Filed by Mitchell Friedman

|

May 23, 2016 @ 11:07am
On May 21, a cruise line called Eco Abrolhos shared a video of a tiger shark feeding frenzy in Australia, where a whale carcass provided a thrilling, horrific scene for tourists and a thrilling, delicious scene for sharks.
Steep Point, near the site of the shark-lunch, is the westernmost point of mainland Australia, situated just south of Dirk Hartog Island. All that information comes, fittingly, from Sharkbay.org. The website also has a "things to do" section, of which not even one is "get eaten by a hungry shark when you fall off your tiny boat!"