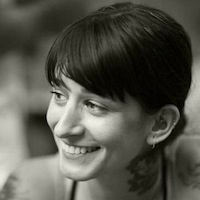 Filed by Jessie Dean Altman

|

Apr 12, 2017 @ 9:04am
Bryce Lacey, a 19-year-old Sam Houston State University student, was home visiting his father, Charles, a veteran of the Vietnam War, in Richmond, TX. Charles Lacey was showing his son some of his old military photos, and Bryce couldn't help but notice that there was one man who was present in nearly all the photos. Charles identified the man as Kermit Powers, a war buddy of his who he'd lost touch with a few years after the war.
It's been almost 40 years since the Lacey and Powers have spoken, so Bryce decided to use the force of the internet to see if he could help track Kermit Powers down for his father. His tweet, which included an old photo of the two friends, was retweeted almost 56,000 times. The internet got together and Nancy Drew'ed the situation, and the first clue found was an obituary for an Evelyn Kelly Powers, which mentioned a son named Kermit, of Germany.
Someone else found a LinkedIn profile for a Kermit Powers, but it didn't look like the account was used much (he was listed as "retired"). It did show that the man lived in Germany, though.
A woman found a Twitter account for a man named Kermit Powers, who did look a lot like the man in the old photos. It showed that he was retired and living in Germany, but they couldn't be sure it was the same man that Bryce's father Charles was looking for.
Then someone found a Facebook page for a man named Kermit Powers.
https://twitter.com/TayylorAshlee/status/850767397090766848
The Facebook account also didn't look it got much use, but Bryce sent a message anyway. And he got a response!
Hey everyone, Mr. Powers just sent me a message. He sent me his contact information so he & my dad can skype each other!

— bryce (@brycelacy) April 10, 2017
He's excited, & said that he has been looking for my dad for over 40 years, thanks for all of the help that everyone contributed this wknd!

— bryce (@brycelacy) April 10, 2017
I just got off of skype with Mr. Powers, he couldn't believe we found him. He's really happy about getting to talk to his old friend tmrw

— bryce (@brycelacy) April 10, 2017
Speaking to BuzzFeed, Bryce said that his dad was "surprised" that he'd managed to track down and even speak to Kermit Powers. He added, "My mom will have to download Skype so they can talk." Good job, internet! See, sometimes not everything on the internet is awful.