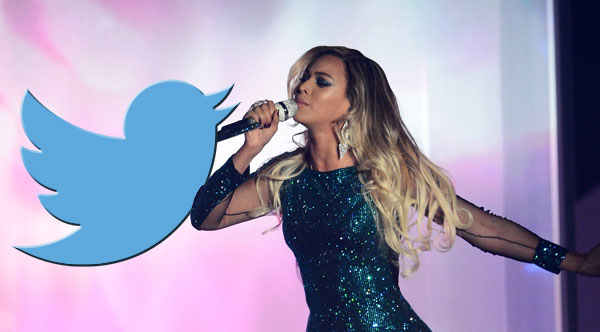 Tweeting on the mic to her boy's toys.
Twitter is weird. We're used to it now, but when it was still new to us, most of us weren't quite sure just what we were supposed to do with 140 characters. So, if you go back and look at your very first tweet—which this new mini-site from Twitter lets you do—you may be surprised at how awkwardly you arrived in this new technology.
The same can be true for celebrities, who were probably thrilled at this opportunity to finally let down their hair and talk to their fans off the cuff like real people:
Hey World, It's B! I'm so excited to invite you to my new http://t.co/fZxlrtAh - we've been working hard, and it's finally ready for you XO

— Beyoncé Knowles (@Beyonce) April 5, 2012
Welcome to the official Miley Cyrus "Gypsy Heart Tour" twitter page!!!

— Miley Ray Cyrus (@MileyCyrus) March 30, 2011
To be fair, some celebrities started off a little less marketing firm-ish:
@TeamKardashians OMG your background is FIRE!!!! I want my pics bigger I think, will u help me?

— Kim Kardashian (@KimKardashian) October 25, 2008
Ha! What a pathetic number of retweets. Nowadays, if she tweets out some nonsense that most of us mumble to ourselves while brushing our teeth, she gets 6K retweets. And it's nothing compared to the response to her husband's first tweet:
NEW SONG AND VISUAL FROM MY NEW ALBUM BEING PROJECTED TONIGHT ACROSS THE GLOBE ON 66 BUILDINGS, LOCATIONS @ http://t.co/7BZwfPawwZ

— KANYE WEST (@kanyewest) May 18, 2013
Granted, that's actually how Kanye West talks to people. In album promotions and in all-caps. And it's not really the primary Kanye tweet. His actual slightly-less self-promotional first tweet was was "Up early in the morning taking meetings in Silicone Valley." on July 28, 2010. He must have gone on a deleting (or detweeting) spree at some point.
I hemmed. I hawed. I joined twitter. Alas. Reason? I saw "The Cove" this weekend and it blew my mind. Everyone should see this movie. -zd

— zooey deschanel (@ZooeyDeschanel) August 18, 2009
Yeah, that seems like a legit Zooey Deschanel tweet. Especially if you set it to some plucky ukulele music.
i think my fingernails are too short to be a member of the twittersphere

— Lorde (@lordemusic) November 22, 2012
I have no idea what this is supposed to mean, but I feel like it's a perfect first tweet from Lorde, about whom I know nothing other than that she confuses people. 
what if i started shit on this plane and you saw the news that a plane is being escorted by f17s. Just kidding. seriously. just kidding.

— Louis C.K. (@louisck) August 6, 2009
Not a bad first tweet from CK. He got the hang of it right off the bat. And that's probably what he was saying to the stranger in the seat next to him. Other comedians had a shakier start:
I hope the 17 fans on my Geocities page follow me here.

— Patton Oswalt (@pattonoswalt) May 1, 2010
Not terrible.
I'm about to go onstage in Minneapolis. After I finish my tuna melt and go pee

— rob delaney (@robdelaney) February 27, 2009
Not great.
I'm getting started on twitter....

— jimmy fallon (@jimmyfallon) December 4, 2008
Getting worse.
Just seeing how this works. I'm hosting the Golden Globes on January 17th - they want me to do a running commentary on Twitter...

— Ricky Gervais (@rickygervais) December 14, 2009
Rock bottom. But, I will admit that it's refreshing to see a tweet from Gervais in which he does not mention that he's an atheist. (By the way, did you know that Ricky Gervais is an atheist?)
Now that we're done with the important people, we can move on to the rest:
Thinking we're only one signature away from ending the war in Iraq. Learn more at http://www.barackobama.com

— Barack Obama (@BarackObama) April 29, 2007
I don't remember how that worked out. Does anyone remember how that worked out?