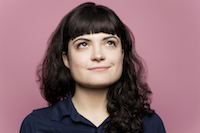 Filed by Jaime Lutz

|

Mar 29, 2016 @ 12:38pm
These women tried wearing remote-controlled vibrating panties for a week, as a part of BuzzFeed's ongoing series of making their employees do things that would result in a series HR violation at any other workplace. As you might expect from a gimmicky sex toy, the end results were more silly than sexy.
"Men are going to become irrelevant," one woman proclaims about the exciting futuristic sex-toy-filled tomorrow that awaits the world. You'll probably be doubtful, especially if the alternative is a sex toy that falls out when you exercise.