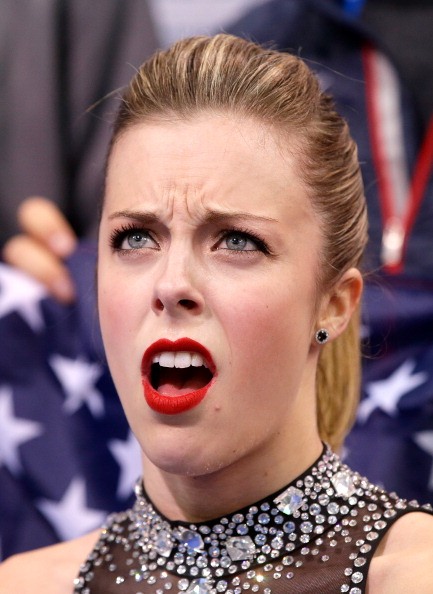 The pissed-off face of a generation. (Getty)
Over the weekend, controversial U.S. Olympic figure skater Ashley Wagner skated in the team event and was extremely pleased with her performance. But when her disappointing score—63.10—showed up on the board—her smile turned to a frown that is quickly becoming the first meme of the Sochi Olympics.

(via Imgur)
Oh yeah, and she said "bullshit" on camera.
It was awesome. There's no way she didn't realize the cameras would capture what she was saying and broadcast it to the world, and she just didn't care. If there's one thing that we, as Americans, like even better than a story of redemption in the arena, it's a story of a sassy athlete who isn't afraid to say what we're all thinking. They're going to have to rename it the kiss-and-cry-and-call-out-the-judges-on-their-b.s. area.
Wagner and the Americans went on to win bronze in the competition, which is better than nothing but still obviously total bullshit.
(by Shira Rachel Danan)