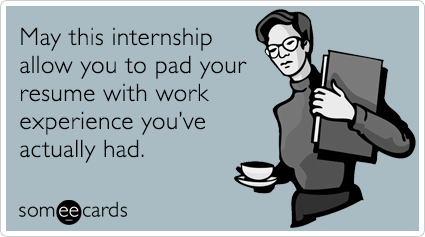 Someecards, Inc
is seeking interns to assist the writing staff in production, research, office support, and possibly hiring interns to replace you. Most of your time will be spent on a new site we're launching, with some time spent on the original
someecards.com
.
All applicants should be available to work 2-3 days/week in our Manhattan office (Late January-May 2013) and still find time to complain about us behind our backs.  
The position is unpaid, but includes a transportation stipend and access to either the men's or women's restrooms in our office.  
Course credit will also be available for students currently wasting their time and money being enrolled in college.
To apply, please submit a cover letter (in email format) with the subject line "Someecards Internship — I am not a spammer, nor am I responding to a Casual Encounters ad" and a PDF of your resume to interns@someecards.com.