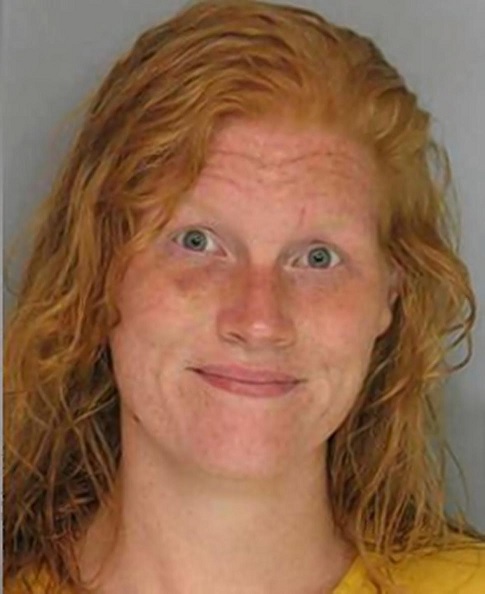 Uh-oh! SpaghettiOs. (Via Hall County Sheriff's Office)
Ashley Gabrielle Huff, 23, was arrested for possession of meth on July 2nd, after a police officer claimed that he found a spoon that "contained a residue" while he was searching a car in which she was a passenger. 
The officer claimed that the residue was meth, Huff swore it was SpaghettiOs.
Hall County assistant public defender Chris van Rossem told the Gainesville Times, "From what I understand, she was a passenger in a car and had a spoon on her, near her, and I guess the officer, for whatever reason, thought there was some residue."
Not that it is ideal to admit to eating SpaghettiOs in a car, but it certainly beats the alternative, which is spending a month in jail for possession of meth. Well, actually, she wasn't jailed directly for the possession, but she was unable to meet some of her court dates, and then when they arrested her for failure to appear, she was unable to make bond. So on August 2nd, she was sealed up like so many O's of spaghetti.  
She spent a month in Hall Country Jail, all the while maintaining her innocence. Prior to this confusion, she had never been charged with any type of felony or drug-related offense. 
Last Thursday, Huff's case was dismissed when crime lab analysis was finally able to confirm her defense. They found no evidence of controlled substances. Just spaghetti sauce. 
Whatever happened to the gumshoe method of taste-testing? I've seen a million cops shows rub a pinky full of cocaine on their gums to make sure they knew what they were looking at. Could no one have just licked the spoon? How about just a sniff? Nothing? Also, there must certainly have been a container housing those Os. Don't tell me all she had was a spoonful; that saucy snack is no peanut butter. 
The Times tried to get the original arrest report, but no such luck. 
My calls to Campbell's SpaghettiOs have not yet been returned. 
(by Myka Fox)