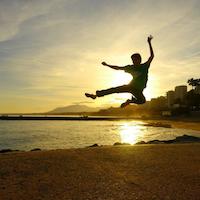 Filed by Mitchell Friedman

|

Nov 03, 2016 @ 8:53am
Before the Cubs won the World Series and Bill Murray rampaged across the field in ecstasy, a tweet from 2014 began to go viral.
2016 World Series.

Cubs vs Indians

And then the world will end with the score tied in game seven in extra innings #apocalypse

— GIO (@RaysFanGio) November 4, 2014
That's because the game was tied in game seven in extra innings. It was the Cubs vs. Indians. And as an extended rain delay stopped play just before the 10th inning, it looked like there was only one part of the prophecy left to fulfill.
The world had to end.
Despite many users calling the tweet "fake," as Snopes points out the prediction wasn't really so "far-fetched."
The Cubs and Indians were the two teams with the longest World Series droughts—so it's a pretty natural joke to make, even if it seems insane in the wake of Wednesday night's game seven.
The prophetic tweeter also explained his logic behind picking the Cubs and Indians two years in advance, which was based on the Cubs signing their manager Joe Maddon and the Indians' crop of young talent.
@eemzyy the day Maddon signed with Cubs and I knew about Indians young pitchers

— GIO (@RaysFanGio) November 3, 2016
And by the way, the world didn't end. That'll be next Tuesday.