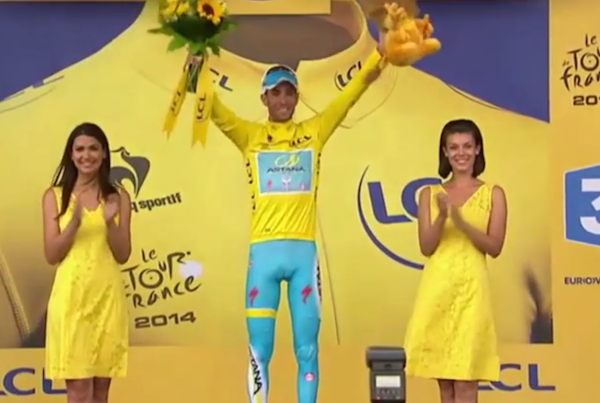 French dissing
Getting a peck on the cheek from two attractive ladies is one of the perks that comes with winning any stage of the Tour de France, which is why it made news this past weekend when Vincenzo Nibali got snubbed by one of the podium girls after winning Stage 2 of the race.
The job isn't that complicated. It's not like this was the end of a horrible date where he said something about getting a kiss because women who wear yellow are easy. You have to assume the kiss was mentioned when she was hired. I guarantee her boss didn't instruct her to hand him the yellow jersey then see if she felt a connection.
Once the guy is standing at the podium, there shouldn't be a lot of mystery. Yet somehow the kiss didn't happen, and the Stage 2 snub is what everyone is talking about.
Update - It's being reported that the kiss was supposed to happen after she handed him a stuffed lion and there was some confusion.
Update #2 - Her rejecting his kiss for some mysterious reason is so much more interesting than the stuffed lion version, so that's what we're sticking with. Tour de Snub!
(by Jonathan Corbett)