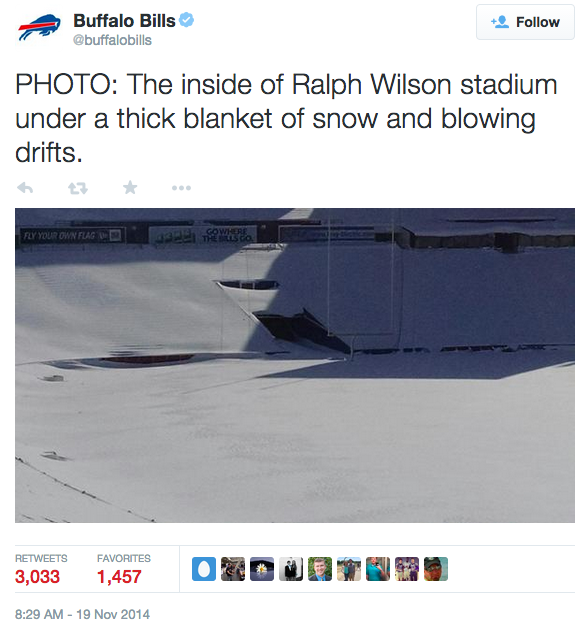 Also acceptable: building an 80-ft-high snow referee. (via)
In case you hadn't heard (or seen the many insane photos), Buffalo, NY and the surrounding region got swamped with multiple feet of lake-effect snow (which replaces "polar vortex" as the winter buzzword of the season) yesterday and last night. Nevertheless, their hometown NFL team, the Buffalo Bills, refuse to let something as silly as thousands of tons of frozen water covering Ralph Wilson Stadium (known as The Ralph) stop them from playing this Sunday at 1pm against the New York Jets.
Even with snowpocalypse for #Bills, plan is still a 1 pm kickoff Sunday vs #Jets. They are working on snow removal but more expected tonight

— Ian Rapoport (@RapSheet) November 19, 201
Not when they have an invaluable resource at their disposal: thousands of snow-bound Buffalonians who really, really need something to entertain them this weekend.
Want to help clear the Ralph? We're looking for snow shovelers. Pay is $10/hour + game tickets. Call 716-636-4840 for details.

— Buffalo Bills (@buffalobills) November 19, 2014
That's right, if you live in the Buffalo area, you can sit outside in this frozen hellscape and enjoy a rousing game of pigskin against in-state rivals, for free, if you do your part and help scrape out this place for $10/hr.
Well, what do you think? This is a pretty good deal if you need cash, love football, and are naturally very warm (perhaps you have a layer of insulation you could work off while shoveling). Otherwise, I'd be interested in watching a webcam of people doing this from a warm room. But still, I've got to hand it to the team and civic spirit of Buffalo and their Bills. If I were the Jets, I'd be very wary of a crowd that just days before were all wielding shovels in unity. 
(by Johnny McNulty)