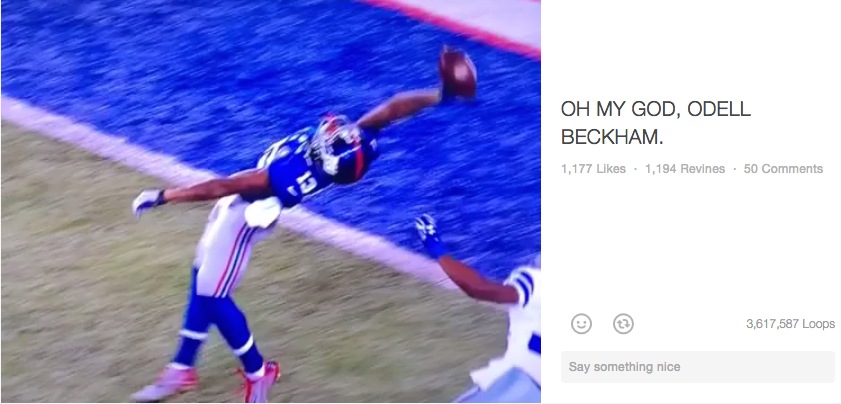 As much as he's enjoying the attention, I'm sure Odell would assure you he is not your god.

Sports people have a tendency to say things are one of the GOATs, the Greatest Of All Time, a little too often. As a result, there's a bit of a "boy who cried 'wolf'" problem when something truly cool actually happens. So, let me, as not-sportsy as they come, assure you that Odell Beckham's one-handed, backwards-diving, gecko-fingered touchdown catch last night in the New York Giants' game against the Dallas Cowboys (the Giants lost 31-28, but Beckham still won the evening) was, indeed, one of the most impressive feats of pure athleticism to come out of pro sports in a while. There's loving pro sports, and then there's saying "hey, look what this cool human did." This is the latter.
Said Beckham after the game in a display of almost-as-impressive modesty "I hope it's not the greatest catch of all time. I hope I can make more." What is most impressive about the catch, you may have noticed, is that split-second where the ball shudders in his fingers like it's about to pop back out, before being secured by some sort of friction magic heretofore undiscovered by science.
You can see the full play over at NFL.com.
Beckham explained that he was just using what his momma gave him. "I guess I have to thank my mom for the long fingers. Her hands are maybe half an inch shorter than mine. I know I felt it on those three fingers and tried my best to pull it in."
Meanwhile, I just dropped the donut I was holding because I tried to hold a coffee in the same hand.
(by Johnny McNulty)