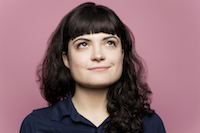 Filed by Jaime Lutz

|

Aug 08, 2016 @ 11:29am
In a year of Islamophobia, here's some rare uplifting news: the 2016 Rio Olympics marks the first time that America is sending a hijab-wearing athlete to compete in the games. 30-year-old Ibtihaj Muhammad began fencing at 13 in part because it was the rare sport that didn't require her to remove her religious head covering, according to Muhammad's recent interview with BuzzFeed.
Muhammad decided to enter the sport professionally in part to redress fencing's lack of diversity. "Historically, it's always been a white sport reserved for people with money," said Muhammad, who has four siblings. "I don't think it's a good representation of the U.S., or of society as a whole." She also probably competed professionally because, you know, she's really really good at it: she's currently ranked as the eighth best saber fencer in the world, and the second best in the U.S.