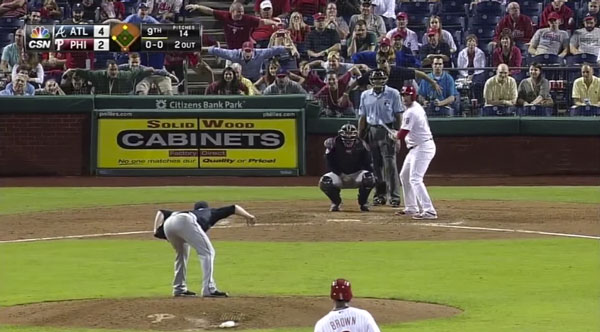 Phillies fans behaving like Phillies fans.
Craig Kimbrel—the Atlanta Braves' closing pitcher in Sunday night's game at Citizens Bank Park in Philadelphia—has a weird-looking pitcher's stance that makes him look like a goof. I'm sorry, but that's just an objective fact. Bring this footage into a laboratory and the scientists there will confirm it. That said, it seems to be working for him, as he didn't let up any runs and walked off the mound with another save under his belt.
However, it also allowed some Phillies fans behind the plate to find some small glimmer of fun at the end of an awful season while doing what Philly sports fans—such as myself—do best: acting like obnoxious jerks.
Is this is kind of a douchey thing for Phillies fans to do to a visiting pitcher? Yes. Does this make the entire city look bad on national television? Yes. Does this help propagate an already pervasive stereotype that Philly sports fans are a bunch of jerks? Yes. Would I be doing this right alongside these idiots if I were there in the stands? Almost certainly!
Look, I don't know how to say this other than just to say it: we're kind of proud of what dicks we are. Not all of us. Some Philly sports fans are reasonable, decent people. We just don't watch games with them.
You can judge us all you like, but we're making the best of our situation. It's what we have instead of championships.
(by Dennis DiClaudio)