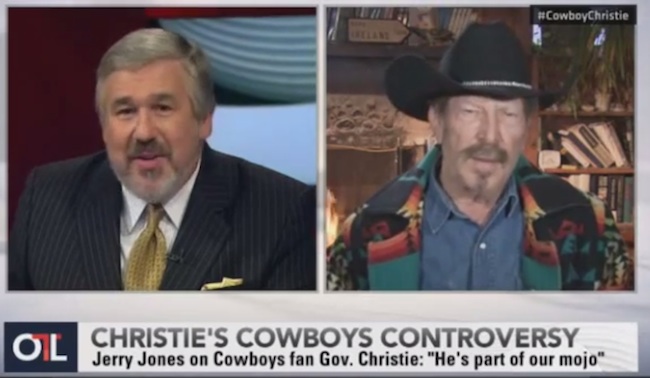 Getting kinky on ESPN.
Not sure what ESPN was expecting from a guy named "Kinky" when they booked him to appear on Outside the Lines, but it's safe to say he went a little further outside the lines than they were hoping.
Wikipedia describes Kinky as a "country singer, songwriter, novelist, humorist, politician," which means he's not especially good at any one of those things. He does seem to have knack for being oddly controversial, which is what he did during his interview with Bob Ley.
After Ley asked him about New Jersey Governor Chris Christie's awkward hug-in with Jerry Jones and his posse in the Cowboys owner's box, Kinky claimed that the two were involved in "the most important, latent homosexual relationship since Sherlock Holmes and Dr. Watson."
The interview didn't get worse than that, but it didn't get a whole lot better either.
The most surprising thing about it is it took nearly three minutes for someone to cut his mic. Evidently, implying that the Governor of New Jersey and an NFL owner are erotically inclined towards each other is one thing, but calling someone a "thin-sock-wearing yankee" is where ESPN draws the line.