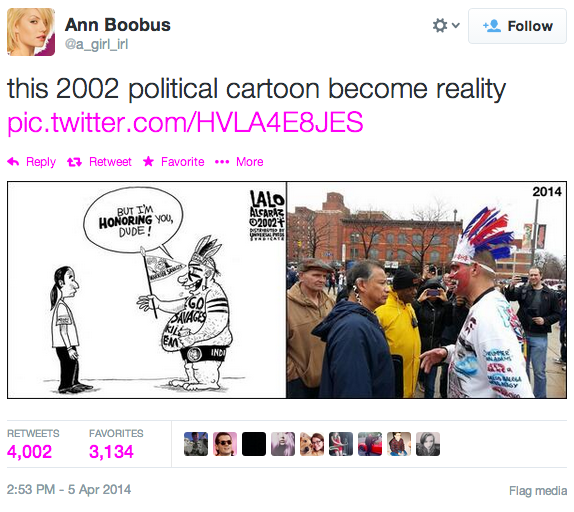 The only difference is that this guy classed it up by putting on an airbrushed t-shirt.
(cartoon: Lalo Alcaraz, photo: Cleveland Frowns, composite: @a_girl_irl)
This cartoon by Lalo Alcaraz may be from 2002, but it's remained timeless because, sadly, the actual issues involved haven't changed much. Even Alcaraz, however, could never have predicted that one of his creations would have come to life so precisely. "I clicked the link and just about fell out of my chair," wrote the Mexican-American satirist after seeing the comparison pointed out on Twitter by @a_girl_irl. He said the cognitive dissonance got even stronger when he opened his old high-resolution version of the cartoon and could see just how well the posture and hand position of the fan, as well as the location of the Native American, matched up: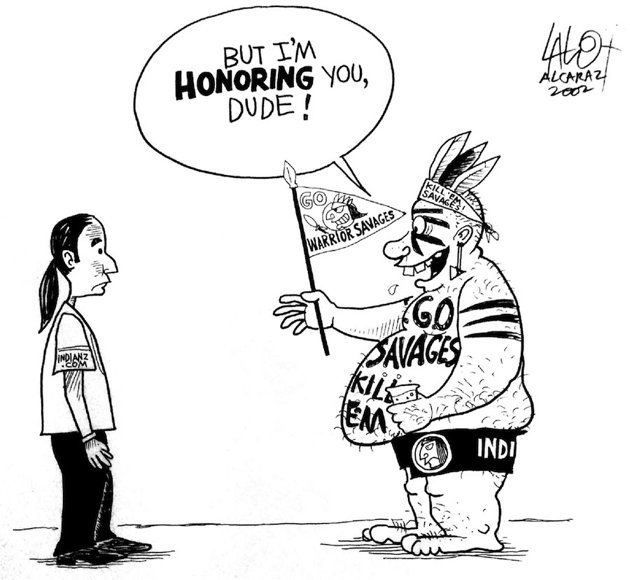 Hey, hey, hey. Not all fat drunk sports fans with offensive opinions have hairy feet.
(via pocho.com)
The photo was taken this past Friday (April 4th) at the Indians' home opener against the Minnesota Twins, where a protest was held against the team's name and especially their mascot, Chief Wahoo (to be fair, even Indians fans have started "de-Chiefing" merchandise...although it seems like once you've reached that point, you should just get a new one). The man giving this doofus the stinkeye in the photo is Robert Roche, a member of the Chiricahua Apache tribe and Executive Director of the American Indian Education Center in Parma, Ohio. The doofus is Pedro Rodriguez, who told ESPN he was "set up" for the photo. By this, he means that he was asked for an interview on camera and willingly talked to and was followed by several journalists, who all wrote about his encounter with Roche. That being said, he was also described as sober and relatively respectful in person, despite his attempt to argue that his redface paint was OK.