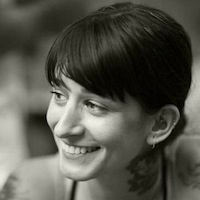 Filed by Jessie Dean Altman

|

Apr 27, 2016 @ 10:29am
On Wednesday, a new episode of Undercover Lyft (the show where celebrities get behind the wheel of the popular car service for a day to surprise fans/freak the living shit out of shy people just trying to get somewhere) aired, featuring famous Seattle football player Richard Sherman, driving in Seattle. And in this city so famous for its rabid fans, basically nobody even recognizes him. True, he's disguised by sunglasses, a hat, and a pretty sweet baja drug rug. But it wasn't due to lack of hinting.
In the clip, Sherman introduces himself as "Richie," talks about nothing but sports, calls himself a "connoisseur" of football (which should probably be on his business card), makes a ton of sports references, mentions Richard Sherman, and all but drives the Lyft onto a football field and through the goal posts. But nope. That's okay, though. It's just because no one is watching athlete's faces, just their games and feats of athletic prowess. And maybe their butts.