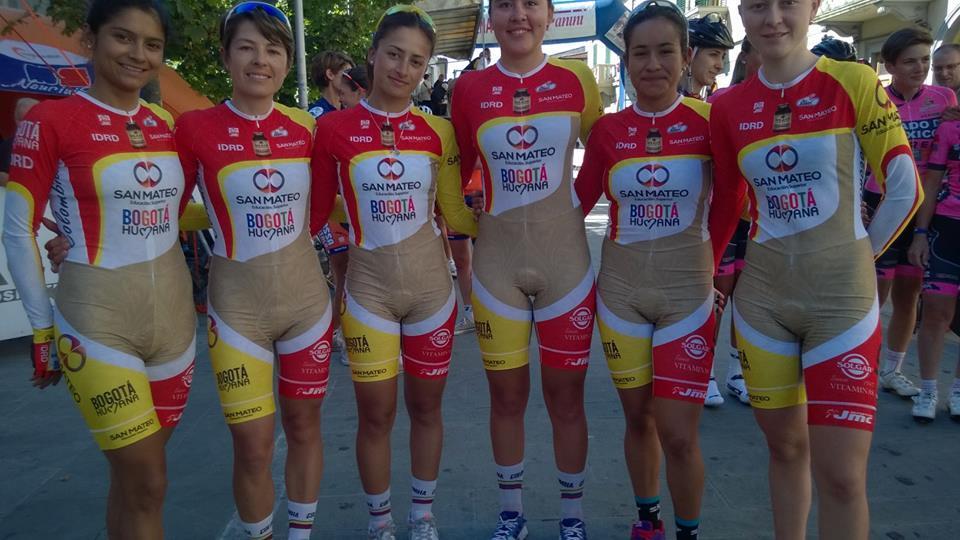 Personally, this just makes me think of a Good Humor bar, and now I want ice cream.
(via Moreno Breda on Twitter)
The Giro della Toscana bicycle race in Italy never gets the press of more famous races like the Tour de France, but that is changing this year because of an optical illusion in the uniforms of the Bogota women's cycling team (it's a city team, not the Colombian national team). It looks like they're naked, but only in the crotch/hip area. This is causing quite a stir, particularly when some people seized on it with the misperception that some dude had intentionally designed this flesh-toned section to sexualize the female riders.
This has turned the sport into a joke. Girls stand up for yourselves - say no pic.twitter.com/Jpt1Vo9Xog

— Nicole Cooke (@NicoleCooke2012) September 14, 2014
This impression wasn't helped when the BBC decided to run a photo of the uniform with a censorship bar running along the women's crotches (which probably sensationalized this more than anything).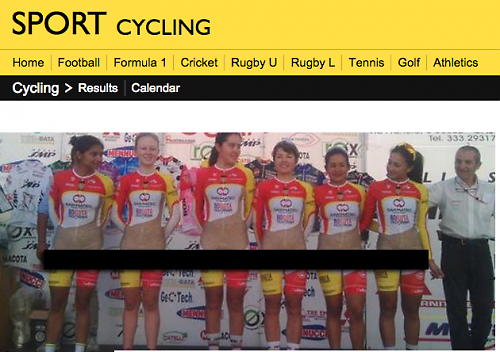 They do realize putting censorship bars up makes anything look like porn, right?
The head of the Union Cycliste International, the world governing body for the sport of professional cycling, has even weighed in on the matter in a very dramatic way.
To the many who have raised the issue of a certain women's team kit, we are on the case. It is unacceptable by any standard of decency.

— Brian Cookson OBE (@BrianCooksonUCI) September 14, 2014
Here's the thing: this entire story is B.S. Who designed this sexist joke of a uniform? One of the riders, Angie Tatiana Rojas, a 22-year-old athlete and designer. Here's a photo that Rojas retweeted on her Twitter feed, which has mostly sidestepped the controversy, except for a tweet reading, "The uniform may not be the most beautiful and we may not like it, but there's no need for certain comments":
De mis fotos favoritas hoy: ☺️☺️☺️ @Antaro051 pic.twitter.com/os4ugqtTcf

— Paula Franco (@pau13_3) September 13, 2014
Also, they've been wearing it in competitions for almost a year with no complaints, including the winner of a Bogota race nine months ago. Why did no one say anything? Probably because the uniform is gold, not flesh-colored. It just shows up like that on film. 
@SSbike @leguape @Velocentric in El Salvador earlier this year pic.twitter.com/gOpB8kEDmJ

— Jono Coulter (@JonoCoulter) September 15, 2014
Even if it was nude-colored, it's not like cycling is a really squeamish sport about seeing people's junk in spandex.
Para quienes no pueden ver más allá de un diseño.Es ciclismo,no es moda #CiclismoFemenino #OrgulloNacional @BiciGoga pic.twitter.com/gEvYExCBfX

— ÚltimoKilómetro (@Ultimo_km1) September 14, 2014
Want to know a really sexist and offensive thing I did find out about cycling while reading this? While even second-tier mens' racing teams are required to offer a minimum salary of €32,000, a woman competing at the Elite level who managed to win all the top-level races would probably fail to earn that much with all the prizes combined. But yeah, the color of their crotch spandex is the problem.
(by Johnny McNulty)