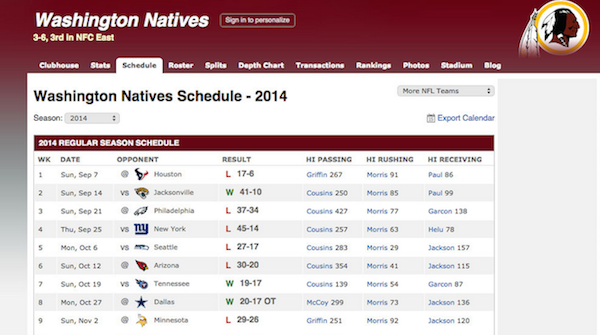 The team still stinks, but it's an improvement. (via)
With every passing week, more and more people are coming around to the idea that "Redskins" is an inappropriate name for an NFL team in 2014. Let's face it, it was an insensitive name for a team in 1932, but back then, sports logos weren't that high on the list of problems facing Native Americans.
If you hate seeing the name and are sick of waiting around for team owner Dan Snyder to pull his stubborn head out of his ass, you may want to check out The Redskins Web Skin. Co-created by someecards contributor Eric Schlakman, it's a site where you can get an extension that will change "redskin" in your web browser to a more appropriate name, like the Washington Athletes, the Washington Indigenous Peoples, and the Washington Tribe.