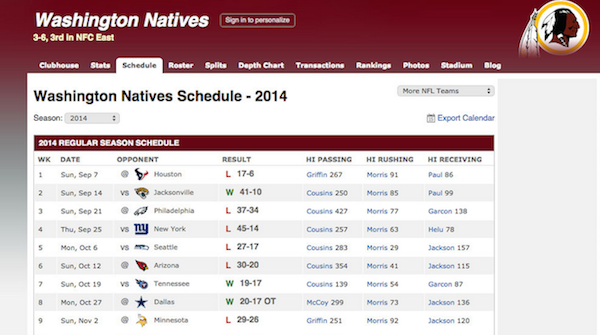 The team still stinks, but it's an improvement. (via)
With every passing week, more and more people are coming around to the idea that "Redskins" is an inappropriate name for an NFL team in 2014. Let's face it, it was an insensitive name for a team in 1932, but back then, sports logos weren't that high on the list of problems facing Native Americans.
If you hate seeing the name and are sick of waiting around for team owner Dan Snyder to pull his stubborn head out of his ass, you may want to check out The Redskins Web Skin. Co-created by someecards contributor Eric Schlakman, it's a site where you can get an extension that will change "redskin" in your web browser to a more appropriate name, like the Washington Athletes, the Washington Indigenous Peoples, and the Washington Tribe.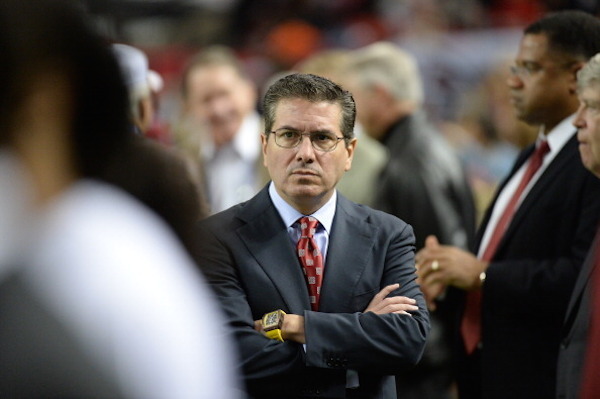 Do it just to piss this guy off. (via Getty)
Even people who aren't bothered by the name are beginning to accept that the tide has turned and that it's only a matter of time before team owner Dan Snyder caves in. If not for moral reasons, then at least as a cynical business move. But anyone who follows professional football knows that making wise decisions isn't one of Snyder's strengths.
If you want to support the cause but are leery about installing an extension on your computer, the site also has a petition you can sign. There's little chance he'll ever read it, but if the site goes viral, it will be one more wave in the rising tide that will eventually wash over the NFL and Dan Snyder.
(by Jonathan Corbett)