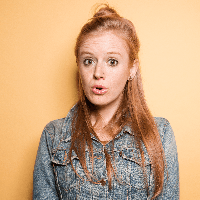 Filed by may wilkerson

|

Aug 24, 2016 @ 9:21am
Usain Bolt, three-time Olympic gold medalist, is simultaneously experiencing both the perks and the downsides of global celebrity status. Photos of the Jamaican sprinter, fresh off his Olympic wins and the day after his 30th birthday, in bed with a Brazilian woman who is not his girlfriend-of-two-years have gone viral. And the world is wagging fingers.
The world-famous sprinter reportedly spent one of his last nights in Rio out at a club where he was spotted dancing close with one woman, and making out with another. And the next day, 20-year-old Brazilian woman Jady Duarte sent pics of her in bed with Bolt to her friends on WhatsApp. Duarte's ex-bf is a Brazilian drug lord named "Lord of War" so maybe she's not the most trustworthy person? But apparently neither are her friends, because within hours, the pics had been leaked to the entire internet.