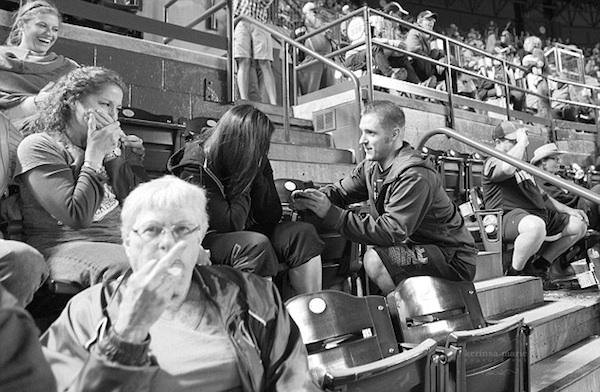 Maybe she was giving the finger to Matt Davidson. (via Kerinsa Mullins)
Kenny Lovelace wanted to make his lady, Molly Ryan, feel like a princess. So he decided to propose to her at Coors Field, during a home game against the Arizona Diamondbacks. He told her parents, and they secretly invited a photographer to the game to capture the big moment. The words came up on the jumbotron, and Kenny got down on one knee, just like in the movies! Molly started to cry. It was all going according to plan—until this lady got caught between the photographer and the happy couple.
She had a romantic night planned, too—between her and the Colorado Rockies. She wanted to show them how much she loved them, by not moving her eyes from the field for even the few minutes a proposal takes. So she made the most romantic gesture in baseball, right into the photographer's lens.
Molly said yes. The old lady said fuck you.
(by Shira Rachel Danan)