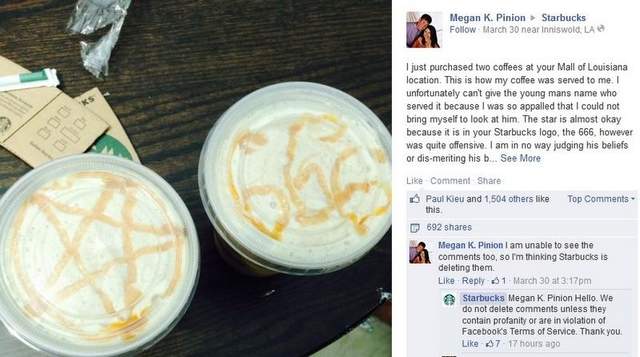 This is why we can't have fun coffee anymore. (via)
A Louisiana school teacher named Megan Pinion had a chilly encounter with the dark side this week when two sugary Starbucks drinks she ordered came decorated with Satanic symbols. She posted her complaint to the company's Facebook page because "she was so appalled she could not bring herself to look at the server." She said she was okay with one drink having a pentagram drawn on it because "it is in your Starbucks logo." But a second drink with "666" on it is what set her off, probably because it's the number of the beast, as well as the likely number of calories from fat in a Starbucks Caramel Frappuccino.
Megan's post seemed pretty reasonable, pointing out that, even though she is a Catholic, she was more offended by the lack of professionalism on the part of the employee. She noted that if she were to present her students with a Christian art project, she "could be sued in a heartbeat." Starbucks spokesman Tom Kuhn offered Megan an apology, and added that they haven't yet identified the offending employee, who probably looks something like this: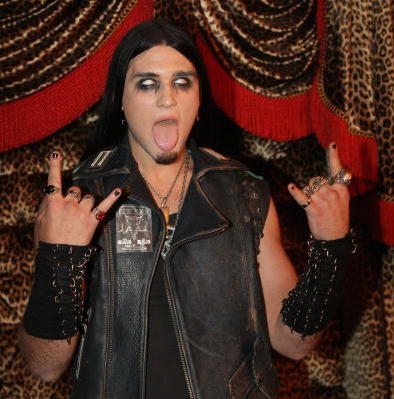 No relation to Starbucks (Nic Cage's son Weston!) (Getty)
Kuhn said he doesn't know if the incident will change the company's policy on foam art, but you have to imagine that coming this close to a massive, high-publicity law suit could very well put the kibosh on allowing ten-dollar-an-hour employees to express themselves creatively on customer's six-dollar beverages.
(by Jonathan Corbett)