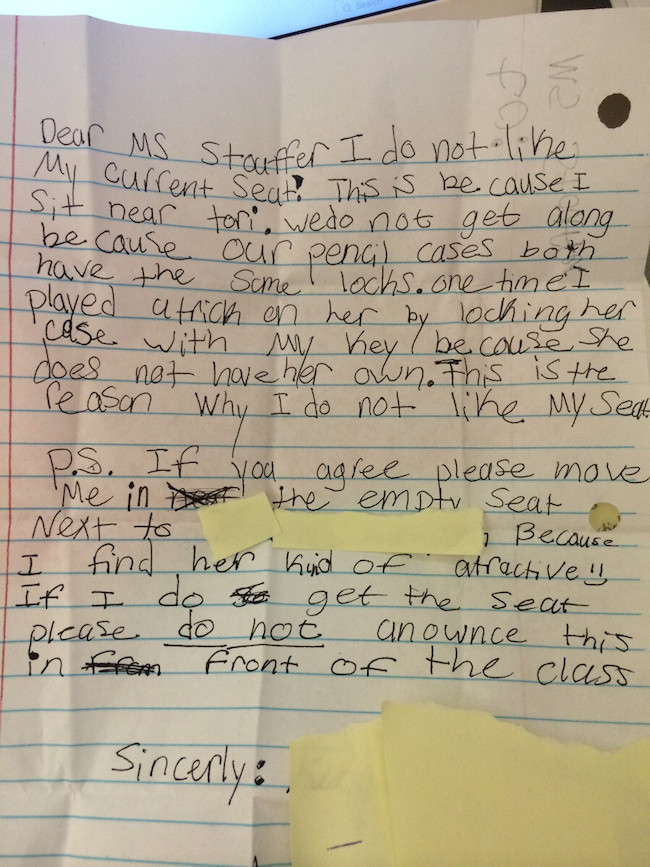 "A" for effort, "D" for spelling. (via reddit)
The middle school student who authored this note to his teacher may have a future in politics, because there are congressional representatives who aren't as good at explaining why they deserve the seats they occupy. Not only does he have a natural gift for slinging BS, he's willing to put it in writing.
"Ms. Stouffer" teaches "the younger end of middle school," and when she switched her students' seating around, one of the boys had a problem with it. He claims it's because he didn't like sitting next to Tori because of their pencil cases having the same locks, which wouldn't be a problem if Tori had her own key, which she doesn't. Why that led to him playing the old "I just locked your pencil case" trick isn't explained. Also not addressed is the larger issue that we've reached a point as a society where middle school kids need locks on their pencil cases.
But none of that matters much in this particular case, because as the letter goes on, it becomes clear that Tori is just a pawn in this kid's game of young love. His seat change request has nothing to do with Tori or her pencil case, and everything to do with the "atractive" girl he's crushing on.
The teacher says she hasn't decided whether or not to change his seat, or whether or not she'll honor his request that she not "anownce" it to the rest of the class. Though, that may no longer be an issue seeing as she's already posted it to reddit.
(by Jonathan Corbett)