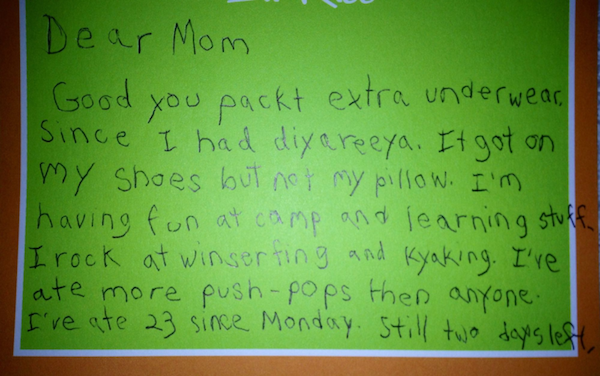 Camp was clearly worth every penny, Mom. (via Hairpin Turns Ahead)
Anyone who spent their childhood summers drinking bug juice and running various items of clothing up flagpoles knows that summer camp is mostly about poop—yours and others. Blogger Liesl Testwuide's eight-year-old son knows it. That's why he's sure to describe in great detail the "diyareeya" he got almost immediately, the incredible dumps horses are capable of taking, and the pyrotechnic capabilities of farts.
A word to Liesl's kid: the diarrhea might be all the push-pops.
This letter is actually from last summer, but it's being shared now as kids all over the country pack up for another summer of pooping memories that will last a lifetime. I wonder what wonderful digestive experiences the author will write home about this year!