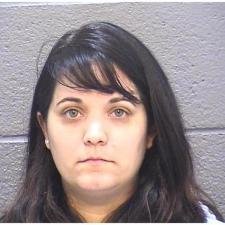 Never gonna dance again. (Via Durham County Sheriff's Dept.)
Former dance teacher Michelle Smith White was charged in July with "taking indecent liberties with a student" and "engaging in a sex offense with a student."  That's court speak for, "she had sex with her student, included her husband in a threesome, and tattooed that student's name on her body to seal the deal."
Smith, 37, started a friendship with her student when the student was only 15, and it later evolved into something sexual. And permanent. According to WRAL, Smith got the name and initials and an "artist rendering which would be symbolic of the juvenile" tattooed on her body.
The court ordered that pictures of smith's tattoos be taken as evidence, although none of those photos have been made public, so it is anyone's guess as to what something "symbolic of the juvenile" could be. Possibly one of the ill-fated renderings of her yearbook photo, or, more likely, one of those stick figures you'd see on a mini-van. And who was the artist who "rendered" this? What could White have said to make anyone comfortable with applying those tattoos? Even if she lied and said it was her niece or something, she's still got evidence of statutory rape emblazoned on her skin. The brazen candidness regarding their relationship is astonishing.
Perhaps her devotion to the girl was strengthened by the fact that she wasn't always acting alone. 
The News & Observer reports a search warrant citing that, 
"Investigators discovered text messages between White and the student, "which includes the wording 'threesome' and alluding to the involvement of Ms. White's husband Phillip White.

There were two framed photos of the Whites and the student hanging on the wall in the couple's bedroom, according to the warrant. Investigators found a blue binder containing handwritten notes, and a card all written by Phillip White to the girl."
Framed photos in the bedroom? After they got tatted up did they take their romance to Sears?
Strangely, Phillip White is not being charged in the case.
WRAL reports that the student's parents asked White to stop communicating with their daughter in April, which is the same month that Smith was suspended from Jordan HS for "unknown reasons," and also the same month that Smith resigned. According to the search warrant, the relationship between Michelle White and the student continued through June 2014, and she was arrested in July.
News & Observer notes that Phillip joined Michelle for her first court appearance, and the two held hands as they left. Michelle is scheduled to appear in court again November 5th.
(by Myka Fox)