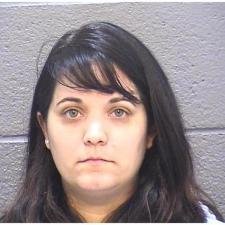 Never gonna dance again. (Via Durham County Sheriff's Dept.)
Former dance teacher Michelle Smith White was charged in July with "taking indecent liberties with a student" and "engaging in a sex offense with a student." That's court speak for, "she had sex with her student, included her husband in a threesome, and tattooed that student's name on her body to seal the deal."
Smith, 37, started a friendship with her student when the student was only 15, and it later evolved into something sexual. And permanent. According to WRAL, Smith got the name and initials and an "artist rendering which would be symbolic of the juvenile" tattooed on her body.