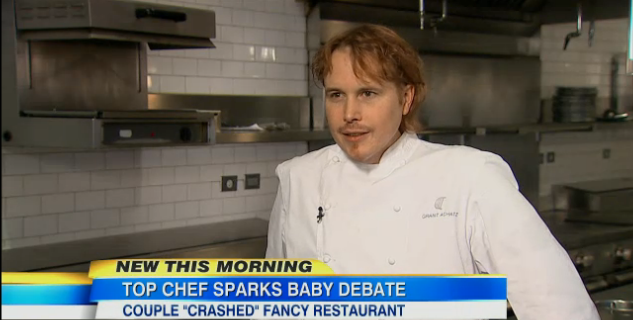 Chef Grant Achatz, not a fan of your little miracle.  (Screencap via GMA)
Over the weekend, a couple had dinner at the very high-end Alinea restaurant in Chicago. Unfortunately, the couple was third-wheeled during the meal by their loudly crying eight-month-old baby.
The baby's crying was apparently so loud that restaurant chef and co-owner Grant Achatz could hear it in the kitchen, prompting him to tweet out the following guaranteed-to-cause-a-shitstorm tweet:
Tbl brings 8mo.Old. It cries. Diners mad. Tell ppl no kids? Subject diners 2crying? Ppl take infants 2 plays? Concerts? Hate saying no,but..

— Grant Achatz (@Gachatz) January 12, 2014
Oh, it's on!
The Tweet generated a great deal of response. Many Twitter users were on his side:
@Gachatz Wait. Someone brought an infant to Alinea? What in the actual fuck?

— Neal Brown (@NealjBrown) January 12, 2014
Fancy restaurants should not have to specify no babies in precisely the same way they should not have to specify yes pants.

— Helen Rosner (@hels) January 12, 2014
Others were decidedly against:
Chef whines about couple bringing crying baby to his Michelin restaurant. Everyone got what they deserved here. http://t.co/PM40hgVfki

— Christine Lu (@christinelu) January 14, 2014
@Gachatz @jolie311 What's their policy on rude people yelling into their cell phones throughout dinner? I'd take a kid over that any day!

— Goddessoflubbock (@hotandhumid) January 13, 2014
Achatz even appeared on Good Morning America to elaborate on the Tweet which, it should be noted, only proposes that he's considering a ban, not that children are barred as yet:
Alinea has been rated the maximum three-stars by Michelin, and is the kind of place where instead of making a reservation, you purchase a ticket for over $200 several months in advance for their prix-fixe tasting menu. Since they don't give refunds for last-minute cancellations (though you can resell your tickets to the many Chicagoans waiting to get a table), parents who can't find a sitter will be pretty determined to try and not give up their table. However, everyone else in the joint paid the same for their tickets. They spent big money and waited months for the food and the ambience, and they're going to feel pretty screwed if that ambience is dominated by the unholy peels of a crying baby.
This isnt really about banning babies so much as it's about banning inconsiderate parents. I don't think anyone would argue that a couple paying $500 for a meal should be cool with another couple letting their baby cry at top volume without at least stepping out of the restaurant for a while, or leaving altogether if they have to.
I'm not a parent (nyah-nyah!), but based on the number of my child-having friends who disappear from public life for years at a time, parents have a pretty good idea of whether their baby sucks at restaurant-going or not. Several of my new-baby friends would keep showing up to restaurants and bars for the first few months with baby sleeping peacefully in Bjorn. They'd spend most of the evening talking about what a good baby they had, how they didn't get all those stories about not being able to go out with their baby, how lucky they were. Then somewhere around month five or six, the baby would learn it was very talented at using its vocal chords to make earth-shattering noise, and I'd never see my friends again (except for when the sitter was free!).
This couple probably knew their baby sucks at restaurants, and they didn't give a shit. Or, as Nick Kokonas, co-owner of Alinea, tweeted:
@MichaelNagrant @EllenMalloy @jmlenart we've had babies before. It's never about the kids. It's always about the parents(not re:this sit.)

— nick kokonas (@nickkokonas) January 12, 2014
(by Bob Powers)