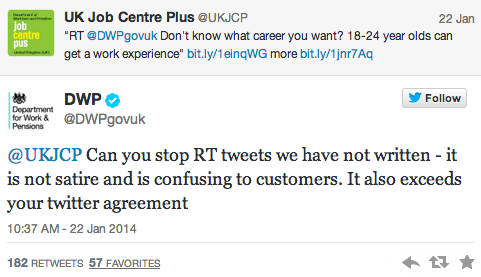 I guess it's confusing, considering those links go to real articles about how the government
is paying porn companies to hire unemployed folks for no pay.
So, the Twitter feed for the UK's Department of Work and Pensions, which manages what we call the "entitlement" programs (welfare, employment programs, child poverty aid, & pensions), got into a fight with "UK Job Centre Plus" (@UKJCP), a parody Twitter feed devoted to crapping all over the DWP's program of making unemployed people work unpaid jobs in order to get a weekly stipend.
Now, if you work for a government agency, and you think a parody Twitter account might confuse people because it makes your agency look like a heartless, hateful bureaucracy that exists to demean poor people while forcing them to work for no pay, the problem is not with the parody Twitter account. (An account that says in its description that it's a parody account). To be way too fair, that tweet at top is a bit more "realistic" than the stuff UK Job Centre Plus used to post:
If you see a real paid job in the wild, please inform @dwppressoffice immediately & we'll turn it into unpaid #workfare ASAP #job2014

— UK Job Centre Plus (@UKJCP) January 10, 2014
If you see one in the US, notify Obama so he can hold a press conference.
But on the 14th of this month, @UKJCP announced that someone new would take over the feed, and they have been tweeting non-stop with very dry but very pointed tweets that obviously ticked off someone at the DWP (the official Twitter account also has far fewer followers). Their blunder in confronting @UKJCP attracted attention internationally and at home, and a lot of angry Britons joined in.
MT @DWPgovuk @UKJCP Can you stop RT tweets we have not written - it confuses us because we can't remember what lies we've told.

— Dave Davis (@neitshade) January 23, 2014
Other people's voices make it hard to hear our own double-talk.
I'm not British, nor am I an expert on their politics, but it's not too hard to figure out why so many Brits have their knickers in a twist about "Workfare," which actually refers to several mandatory-labor unemployment programs. Let me try to give my rough (very, very rough) understanding, and hopefully we can all learn something today to arrogantly lecture people about tonight. 
We're simplifying the class structure in the UK by replacing working, middle and upper class with mega-rich & mega-poor classifications.

— UK Job Centre Plus (@UKJCP) January 14, 2014
Do they have to pay us royalties on that concept?
If you want to collect unemployment in Britain (at the high end, about $120 a week), they assign you to work in low-wage jobs at large corporations. Except you don't also get that wage. You only get that weekly stipend of $120, which is supposed to be helping you find a job. Although it's hard to find a job if you're working a job you don't get paid for. It also adds up to less than minimum wage on a per-hour basis. 
Report any disabled or unemployed having a comfortable life to your local JCP so we can make a film about them prior to removing benefits.

— UK Job Centre Plus (@UKJCP) January 11, 2014
Feel free to overnight that footage to Fox News as well.
It's important to note that this is not slavery, it's forced labor—although the best thing you can say about forced labor is that it's better than slavery. (Astonishingly, the Tories have argued that this is like slavery, in that without Workfare, everyone would be enslaved to poor people.) If you read Dickens in school, you may recognize this concept. It's called the workhouse. It was considered a pretty big accomplishment when they got rid of it.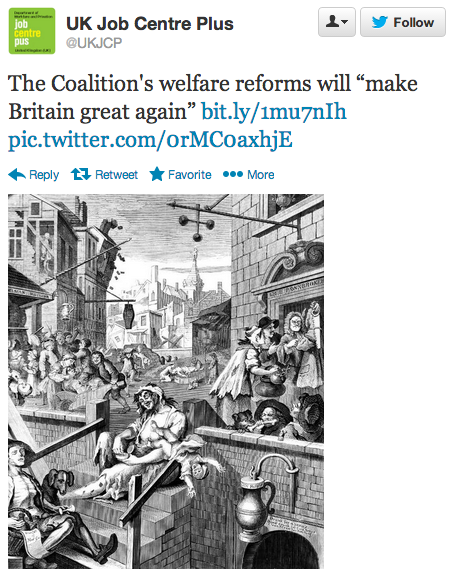 Reminds me of seeing "A Christmas Carol" for the first time as a kid.
If you're worried about salivating Republicans getting ideas beyond drug testing aid recipients, fortunately Republicans also loathe the idea of the government literally assigning people jobs. I wouldn't want to tempt them, though. (Btw, the congressman who proposed that got arrested with cocaine.) Actually, that sort of labor force manipulation is what they accuse Democrats of wanting to do. Congrats, UK, on combining all the things we fear our government will do, in addition to blindly copying us when we go off the rails with spying and war. Thanks, special relationship.
(by Johnny McNulty)