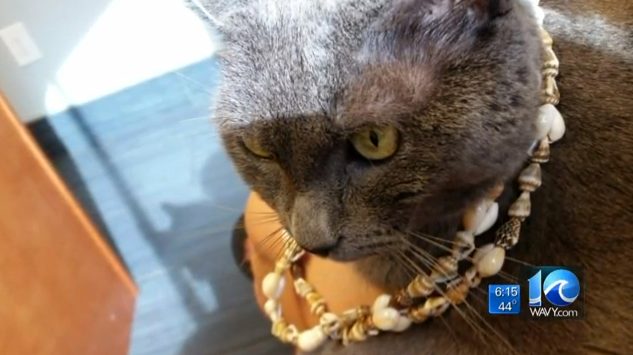 "You don't even want to know what it was like in the box, man." (Via WAVY)
Ashley Barth hired movers to pack her family up for their move from Suffolk, VA to Hawaii, and they quite literally packed her family away. While they were working, Mee Moowe, the family cat, went missing.
"I was really worried and starting to think the worst," Barth told WAVY. "Maybe she ran away, maybe the movers scared her and she decided it was too much noise and she took off. It made me sick. It was heartbreaking. My girls were devastated trying to tell me that I couldn't leave without Mee Moowe."
The family waited for three days in their empty house hoping for Mee Moowe's return, but eventually had to make their move.
It wasn't until Barth had long since arrived in Hawaii and was working with movers to unload the newly arrived boxes that she heard it: a Mee Moowe meow.
"The guy goes, 'what was that sound?' and my heart just kind of sunk for a minute and I thought, 'no, no way.' And then we heard it again. And the guy said, 'was that a cat?'" Barth said.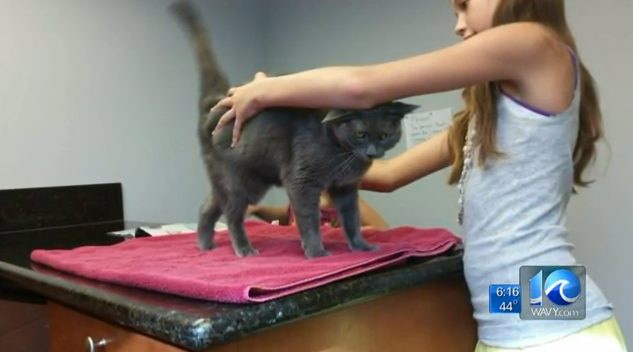 "After something like this, even the towels smell better." (Via WAVY)
Impossibly, Mee Moowe, who had hid in one of the boxes, had somehow survived the month long land and sea trip to Hawaii with the rest of the Barths' possessions. They opened the box to find a severely starved and anemic feline. Mee Moowe had lost half her body weight, and her eyes had crusted over.
It's astonishing that Mee Moowe survived the trip without any food and water. A vet who spoke to WAVY 10 News said, "a number of factors come into play, like the cat's health before it moved, the amount of humidity and temperature inside the box and the shipping containers."

"I was in shock," Barth recalled. "I couldn't believe it. I think I was grateful that she was alive, but I was furious this happened to her."

A whole house of boxes, and it didn't occur to her that your cat could have been in one? Cats love boxes. It's all they do. I'd be surprised if those boxes didn't come with more cats.
(by Myka Fox)