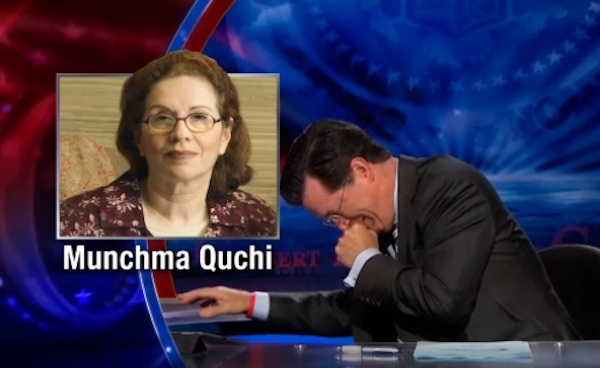 Pronounced the way it looks.
After tonight, Stephen Colbert breaks character for good.
Tonight is the last episode of The Colbert Report on Comedy Central. The show, which started as an offhand joke on The Daily Show, became a massive hit that lasted for ten years.
Stephen Colbert's ability to maintain his high energy and commit to his rabidly neocon character over all those years is the stuff of legend. But sometimes, even Colbert couldn't help but break down laughing.
Here's a bunch of those times:
I was a production intern on the show in 2007, and here's a little insider dirt: Stephen Colbert is a really nice guy. He's nice to everyone from the head writer to the lowliest intern (me!).
I once caught him backstage —after needing several takes to nail a line—casually apologizing to the director for taking so much time to get it right. They'd worked together on hundreds of episodes, but Colbert still wanted to make sure the director knew his hard work wasn't taken for granted.
That deserves a tip of the hat.