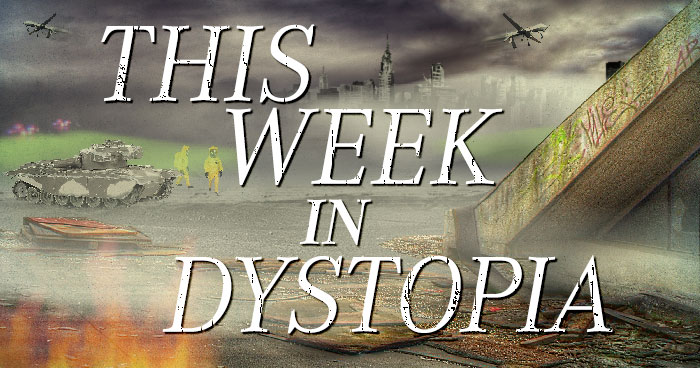 "The world is a vampire."
-Smashing Pumpkins
Welcome to "This Week In Dystopia," a digest of all the things turning 2014 America to 1984 Brazil. As the line between our real-life present and the horrible imagined futures of our past keeps on a-blurring, it's more critical than ever to chart society's descent into a techno-nightmare of illusory choice, at least until all that ever was is wiped from our collective memories, and we all get plugged into big weird chairs.
Here's what's doubleplustopical this week:
Infinite Drones, Forever, Blotting Out The Sun
Meet the Razor, the Department of Defense's new 3-D-printable, military-grade UAV. With predicted speeds of up to 120 MPH, a 1.5 pound carrying capacity ready for a surveillance camera, and costing only $800 and 31 hours to print, this little dude is poised to blacken skies for years to come wherever it is we might maybe at some point down the line possibly be unofficially at war. You know, just in case.
Never mind that we're equipping whatever emergent electronic super-intelligence we're forming Google by Google with everything it needs to build its implacable, disposable plastic army. We'll cross that bridge when we come to it, only whoops, we're already in the middle of the bridge, and the bridge is on fire, and it's an electrical fire so good luck, my man. My favorite part: The drone is assembled with pieces that snap together – like Legos! – and can be controlled with a Google Nexus 5 smartphone – like some kind of casual mobile bird battle! Wow, endless war is fun!
Thank God, then, that Boeing has built the military a 10-kilowatt truck-mounted laser cannon capable of blasting drones, rockets, and artillery out of the goddamn sky simple as you please, even in windy and/or foggy environments. Maybe it's strong enough to kill God. We just won't know until we try. And, just like the drones it's pitted against, the laser is operated by an Xbox controller. Break out the Mountain Dew, we got Code Red over here! Boy, it's like war's on its way to becoming a gamified economic abstraction for everyone but the civilian casualties. Anyway, what else is news.
Ebola, The Everyman's Disease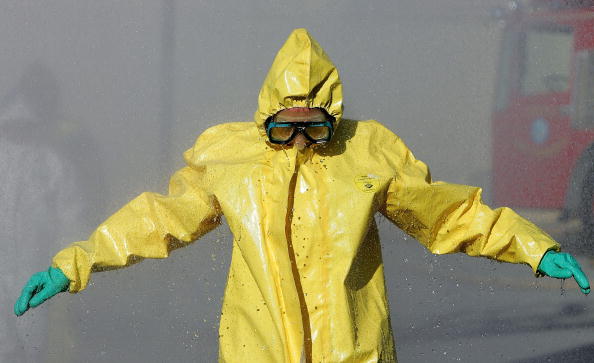 Boy, we sure had fun cracking all those Ebola jokes this summer, huh? Sure we did. When we weren't too busy slinging hot punchlines about ISIS (whoa... like from Archer!), the missing Malaysian plane, or that U2 album, I've Already Forgotten What That Album Was Called, we were getting our giggles talking like every cough and sniffle outed us as Patient Zero. And why not? It's not like we were on the pestilential chopping block. It's the old equation: Comedy = tragedy + an ocean.
But now, thanks to the miracle of air travel, America's got its very own first case of certified Ebola, an unidentified man in Dallas who developed symptoms after flying in from Liberia (and boy are his arms ravaged by disease!). He's been isolated in Texas Health Presbyterian Hospital, and while the CDC is confident he couldn't possibly have infected anyone on his flight, those he's come in contact with since developing symptoms are being closely monitored. And, folks, if you already thought it was funny to tell your friends, "Watch out you don't get Ebola!", you haven't even begun to scratch the membrane of the throbbing joke-cyst ready to gush forth and fill us all with the most infectious body fluid of all: terror-driven laughter.
Though pestilence itself is dirt-ancient, population-ravaging superplagues are as dystopian as jackboots. They're where big data meets blind animal terror, and inevitably end with total societal collapse getting pushed back by a whole lot of really coercive society, complete with creepy hazmat imagery, mandatory injections administered by robot arm, and the whole American southwest being walled off and cauterized and declared a Zero Area (not that the southwest shouldn't be, prophylactically). So, while it's by no means time to start stocking iodine tablets and learning which wire starts the car, I'm not not gonna tell you not to do that. Maybe do that.
Emma Watson Nude Leak False Flag Clusterbungle Go!!!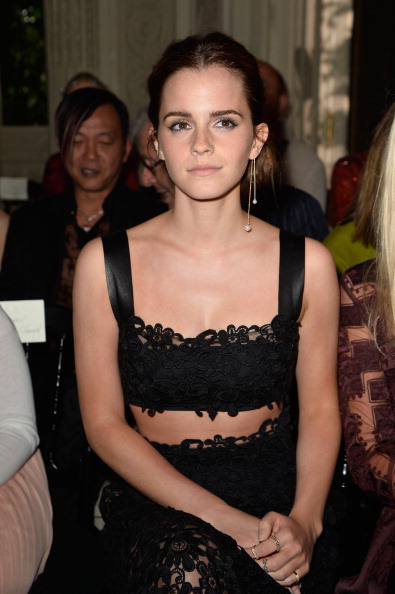 Okay, real quick:
A while back - Emma Watson delivers a "game changing" speech to the UN about feminism in which she invites all men to help her build a table or something. Everyone loved it except for a few killjoy malcontents who society perpetually marginalizes.
Slightly after that - The civilized internet went buckwild at the news that the same chuckleheads who perpetrated Bigass Nudespill 2014 had allegedly threatened our girl Emma with more of the same for having spoken out for women. A countdown to the fated hour ticked away at EmmaYouAreNext.com. Never mind that this cause-and-effect narrative makes about as much sense as the scheme of a Captain Planet villain; the headline alone was enough to whip newsfeed crusaders into a frothy lather/lathery froth.
And then - And then it turned out to be a hoax: EmmaYouAreNext.com revealed itself as the promotional hub for "#ShutDown4chan," a viral campaign engineered by a marketing firm, Rantic, who'd been hired by "celebrity publicists" to take a stand against the crudslingers and turdjackers skulking over at 4chan, the internet's Mos Eisley and progenitors of the leaked celebrity nudes. So, shots fired.
But wait - Rantic was itself a hoax, in fact, a creation of SocialVEVO, a sort-of viral marketing sort-of company who've pulled shitty buzzy stunts like this in the past, creating sites like Rememberthe13th.com, which promised a big NASA announcement while NASA itself was shuttered during the government shutdown, driving inadvertent traffic to pointless YouTube videos, and pocketing the dollars generated through hundreds of thousands of views. They also sell bot followers to Twitter accounts and bot traffic to YouTube videos. They are parasitic scum, a tapeworm in the internet's colon.
But hold on - 4chan didn't take too kindly to having a hollow viral campaign cynically launched against them, and retaliated, hacking and defacing Rantic's site, among other SocialVEVO sites, and uncovered a slew of SocialVEVO's "pranks." Nobody here is a winner; it's just cancer and dysentery fighting over the same body.
So to sum up - I'm garbage, you're garbage, the internet is garbage, online media is garbage, the whole knowable world is garbage, we're all vaguely complicit, and everything's only going to get worse until there's nothing left but sludge and targeted ads.
See you next week!
Follow Dan Abromowitz on Twitter.
Images via Getty Images