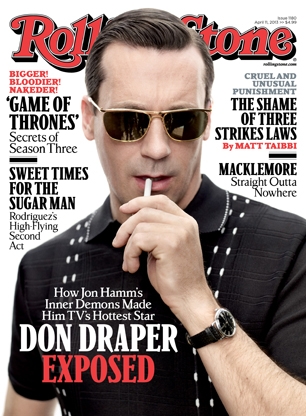 There are white people problems and there are famous, huge-hog-having people problems.
Jon Hamm would like you to know he's had it up to his shaft with posts like this one. Hamm tells Rolling Stone in his first solo cover interview that he would like everyone to stop discussing the sexual anatomy of the man who many would consider the sexiest actor presently working on television. "They're called 'privates' for a reason," the actor, who returns to the role of an irresistable philanderer on the latest season of Mad Men, said.  "I'm wearing pants, for fuck's sake. Lay off."
Nope.
Look, Jon, you're right. We're rude and prurient, as you told Rolling Stone. And we're infantile, giggly schoolboys electronically writing graffiti on the bathroom walls here. But we're also playing right into your network's hands. There is no way it was just a coincidence that "an inside source" happened to tell The New York Daily News your gargantuan knob has been getting in the way of production on a multi-million dollar television series right before that television series returns to air. If you want us to talk about something else, tell AMC's publicity to spread different, viral-headline generating rumors, maybe about how your gargantuan talent as an actor (and that's really big too!) posed a challenge to airbrushers trying to tone down all that talent in bus ads. Until then, we'll continue to link to these pictures from The Superficial of your penis slamming against the walls of your slacks like a medieval army storming the gates of a castle keep.