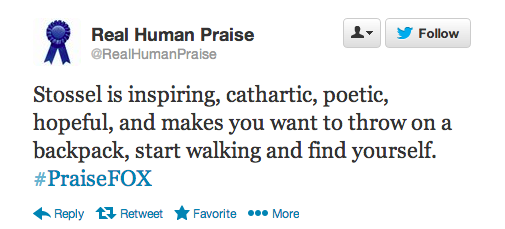 Much of Fox News's programming makes people give up and live in the woods.
On last night's The Colbert Report, Stephen interviewed author David Folkenflik, whose new book Murdoch's World reports on NewsCorp's practice of having staffers invade the comments sections of online articles that cast Fox News in a negative light and post rebuttals arguments defending the network. Reportedly, staffers would refute the article, and do battle with anti-Fox commenters as well.
To help Fox News move their fake online fans from the comments sections to the Twitterverse, Colbert Report staff writer Rob Dubbin put together the feed @RealHumanPraise. Far more efficient than having a bunch of paid humans pretend to enjoy Fox News, @RealHumanPraise uses a bot that searches Rotten Tomatoes and grabs phrases from positive reviews of other shows and movies, drops in the names of Fox News programs and on-air personalities, and bam, an entire feed of something approximating a postive tweet from a moderately insane person about their favorite network!