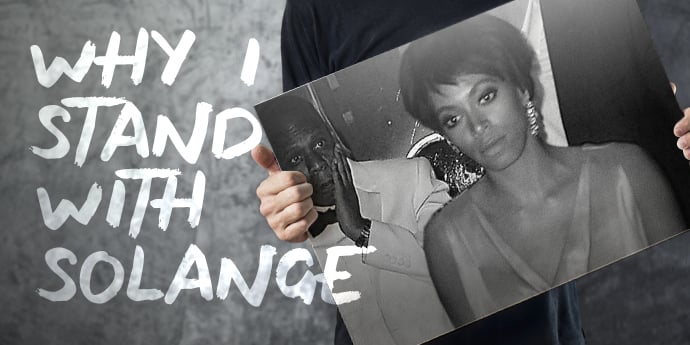 In the coming days, details will undoubtably surface as to why Solange Knowles attacked Jay-Z in an elevator, and why Beyoncé stood there and watched it happen. Ugly truths may surface and force fans to reconsider where their loyalties lie. But while the internet buzzes with speculation, I've already made up my mind; I support Solange and here's why:
Because I flipped a coin.
Heads I'd side with Jay-Z; tails, Solange. If it landed weird on the carpet I would have come up with a weird but plausible theory about Beyoncé being blackmailed or something. It landed on tails, so my opinion is set: Solange was unquestionably in the right.
I use flipping a coin to decide pretty much all of my opinions on the latest hot-button controversies. Thanks to coin flips, I think Kanye West is a genius, I consider Beyoncé anti-feminist, I don't believe Dylan Farrow, and I supported #CancelColbert. If it might come up at a bar with co-workers, I make sure I have an opinion about it. After all, you can't just ignore current events.
You might think such arbitrarily picked beliefs would buckle under any pressure. Don't be naive! Hardly anyone has more than the same cursory understanding of any given issue. The only difference is that their opinion's cobbled together from half-skimmed summary articles and mine comes from a few headlines and a coin toss. Debates are easy enough to handle, too. If someone cites evidence to try to change my mind, I simply reply that I read the opposite on Salon or New Republic. And if someone engages me actually expecting to convince me of anything, I just call them out for what they are: a sociopath.
Not having to keep myself informed on the ins and outs of Gawker's latest lead story frees up energy I can devote to my real passion, writing Yelp reviews of Subway franchise locations in and around bus depots.
Obviously, it would be absurd to try to break every issue down neatly enough to be determined a coin toss. I picked my stance on the Daniel Tosh rape joke controversy, for example, by rolling a six-sided die. I have an eight-sided die ready to go, just in case something really thorny comes up, but I've never needed it.
Has a coin-flip ever steered me wrong? Sure, of course. I backed HD-DVDs over Blu-Ray, and I'm stuck believing Hitler was right, but you'd be surprised how rarely anyone asks my opinion on that. And divisive issues come and go so quickly that no one even remembers, say, whether they thought M.I.A. eating truffle fries was a big deal (I did) or whether Natalie Portman's dance double in Black Swan was cheated out of the credit she deserved (I didn't).
So while all of you are refreshing Jezebel and hanging on every new development on Bey's Instagram, I've already moved on. I have my opinion, and that's all I'll ever need.
Follow Dan Abromowitz on Twitter.