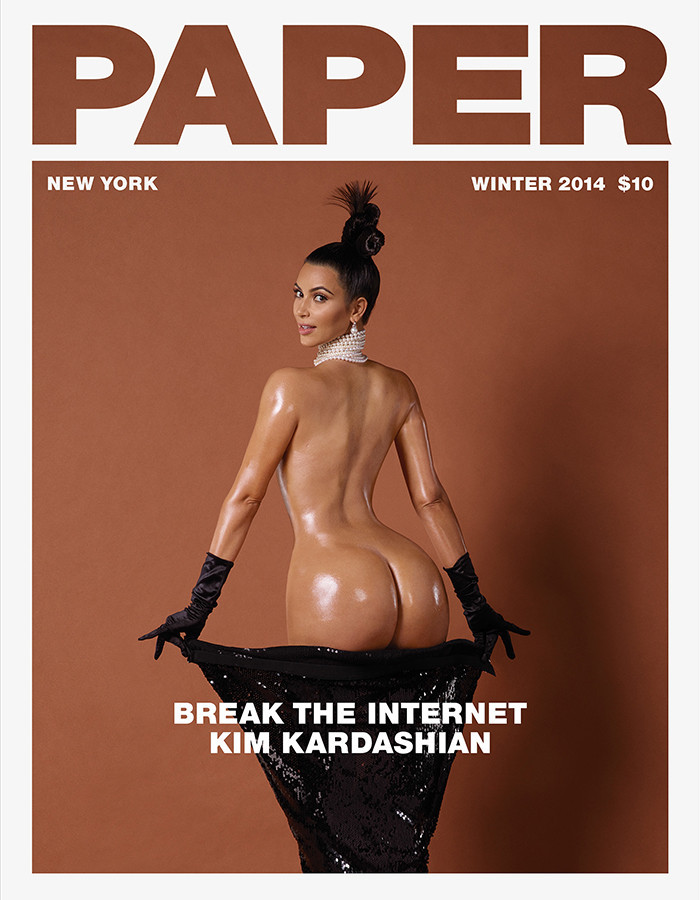 The pages have actual words, but is still totally blank . 
There was!
What's funny about the article (besides it's general existence) is that the author actually posited the clichéd question any Barbara Walters would ask a famous person: Who is the real Kim Kardashian?
Those are my words, not hers. The author dressed it up by writing, "behind all the hoopla, there is an actual woman -- a physical body where the forces of fame and wealth converge. Who isn't at least a tad curious about the flesh that carries the myth?"
I'll tell you who: all the people that only looked at the pictures. Which is to say, everyone. In fact, I bet you're surprised that there was any article. Why bother? Nothing says more about someone's flesh than actual photos of it greased to a shine.
I haven't heard of anyone having actually read it, most people just spied the images of Kim's moon directly on Google images, and then the full frontal on TMZ. But there are words in the actual magazine, interspersed between the photos as though they were there to act as buffers, giving the viewer time to fully absorb the vat of oil that has been splashed in their eyes before they land on the next photo.
But, once I learned there was an article, I had to know: who is Kim Kardashian?
Three paragraphs in, and so far the only description of her is her impossibly flawless beauty. That's when I started to play a game, is the author male or female? I was so tempted to look, but the fact that I couldn't tell by the writing made this question that much more delicious. The author writes of Kim, "Her black hair is thicker than any you have ever seen, her lips fuller, her giant Bambi-eyes larger, their whites whiter, and the lashes that frame them longer," and "I notice that her skin, which is the golden color of whiskey, is free of wrinkles, crow's feet, laugh lines, blemishes, freckles, moles, under-eye circles, scars, errant eyebrow hairs or human flaws of any kind. It's like she comes with a built-in filter of her own." So much adoration of her beauty that it became totally genderless, as though Kim's sexuality was so powerful that it eclipsed the author's.
I checked to see who was writing, the text is credited to Amanda Fortini (though on the cover of the magazine, the article is selfishly credited to Paper mag itself.) A quick check of Fortini's Twitter, and I see that she is a highly accomplished writer and professor who, in another world, teaches Joan Didion's essays.
Fortini goes on to describe Kim's flawlessness by saying, "none of it seems obviously ersatz."
Ersatz. LOL. Does this author know the Kim Kardashian fanbase or what?
In any other circumstance, I'd probably be a Fortini fan, but this article, though beautifully written, says absolutely nothing new about Kardashian.
Despite them spending time together eating pound cake at LA's Polo club, Amanda only lets Kim speak in the form of quotes a handful of times, and even then we get empty-isms like "My makeup artist said to me the other day, 'You haven't taken a selfie in a while,'" and "There's nothing we can do that's not documented, so why not look your best, and amazing?"
Is Fortini purposefully leaving out information, has she been instructed not to get too deep with Kim despite her initial promise of revealing the flesh, or did Kim just not have anything interesting to say?
Our author paints Kim as a polished entertainment-bot. We almost get close to a complaint about her fame when Kim says that the paparazzi interrupted her pumpkin picking session with North and Kanye, before Kim quickly recovers with a "You just have to not care. You just have to say, 'This is our life, and it is what it is.'"
Yaaaawwwnnn.
If there is anything even remotely new revealed about Kim in the article, it is in this description of her dumping Equal into her drink. 
"She empties its contents into a glass of passion fruit iced tea, then fastidiously bites granules of sweetener off her manicured nails."
LOLOLOLOL
Just picturing an almost real Barbie doll dumping something as disgusting as Equal into her drink and trying to bite powder fine granuals… are there granuals in Equal? Isn't it a powder? I have to go find a packet of Equal and accidentally spill some onto my manicure, I'll be right back.
Eh, I'm back. It wasn't worth it.
But, god, could Kim be any more "less?" Say something, Kim! 
Even our author gives up on her. Amanda Fortini, who promised to reveal the inner Kim, throws her hands up and says, there is no inner Kim. At one point Fortini even says that she "detects no hint of falseness." She has been lulled by Kardashian's boring siren song and has crashed against the rocks. She actually declares with the insight of a zombie-hive-mind that there is no difference between the Kim Kardashian we see on her reality TV show, and the real thing.
No. Come on. Just…. No.
You might be saying to yourself, "Well, of course there could be nothing revealed about her, she lives her entire life in the public eye. When she is out of the house she is swarmed by the paparazzi (true), and when she is at home she is surrounded by the reality TV cameras."
I used to work as a producer and writer on several reality TV shows (yes, they have writers, most of them are listed as "producers," but some of the shows actually call their writers "writers," and no, I will not admit to which ones here. Go ahead and do an IMDB witch hunt if you really care.) and I can say that most of the time the cameras are not there when the shit really goes down. When real emotions are happening, even when the subjects seem very willing to save their personal lives for when the cameras are present, people don't put their lives on pause. Usually we find out about the juicy fights, hookups, and breakups after the fact, and we have to race to the scene to catch the aftermath, or worse, sometimes we just get them to recreate it. Most of the time the fights, hookups, and breakups you see on a show have been conceived of by the production team along with the cast ahead of time, and may or may not resemble the actual lives of those on screen.
Full disclosure: I have not actually watched Keeping up with the Kardashians, and I don't think I need to. I've spent years inside that whale, I don't need to watch one from a boat. Fortunately, our author was kind enough to describe it for us. She uses terms like "uncanny consistency" and "mundanity" and even goes so far as to say, "though her life requires work of a sort… you don't get the sense that she is hiding or suppressing her true, private self."
Yeah. You're not supposed to get that sense. She's doing a really good job. Despite the assumption that reality TV edits its stars to look bad, most of the work on a show goes to making the stars look good. Nobody wants to watch a show of unlikable people. Not for ten seasons, anyhow. If these people were ever interesting enough to put on television at all, I guarantee you someone was in the editing room removing offensive stuff all the live long day. What has likely happened is that, after so many years on camera, Kim has just learned to model herself after the version that appears on screen.
That's so... gross. Grosser than whatever rag was used to wipe the floor after a gallon of oil had fallen there through Kim's monster crack. Of course the author never specifically said she would give us the real Kim Kardashian. There isn't one. If she wasn't one to start with, and my basic belief in humanity makes me hope that she wasn't, she has become a vapid shell who never says anything controversial and lives every second of her life as though it were a live feed. She is a puppet, a cartoon, or a ghost. She is a tree falling in the woods, no one can hear her if they aren't there, and she doesn't exist unless we are watching her. She has relinquished her soul to us, as though we were God, and it's up to us to say, "let there be Kim."
And now, all we can hope for, is that there is no God.
(by Myka Fox)